2.5 L turbo models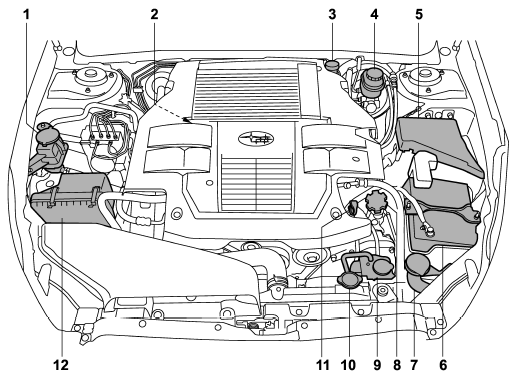 1) Power steering fluid reservoir (page 11-27) 2) Manual transmission oil level gauge (page 11-23) 3) Clutch fluid reservoir (page 11-29) 4) Brake fluid reservoir (page 11-28) 5) Fuse box (page 11-46) 6) Battery (page 11-45)
7) Windshield washer tank (page 11-40) 8) Engine oil filler cap (page 11-12) 9) Engine coolant reservoir (page 11-17) 10) Radiator cap (page 11-17) 11) Engine oil level gauge (page 11-12) 12) Air cleaner case (page 11-19)
See also:
Tire rotation direction mark
Example of tire rotation direction mark 1) Front If the tire has a rotation direction specification, the tire rotation direction mark is placed on its sidewall. When you install a tire that has ...
Photosensors
The mirror has a photosensor attached on both the front and back sides. During nighttime driving, these sensors detect distracting glare from vehicle headlights behind you and automatically dim ...
Battery
WARNING ● Before beginning work on or near any battery, be sure to extinguish all cigarettes, matches, and lighters. Never expose a battery to an open flame or electric sparks. Batteries gi ...