Engine hood
To open the hood:
1. If the wiper blades are lifted off the windshield, return them to their original positions.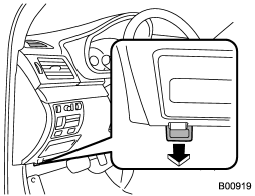 2. Pull the hood release knob under the instrument panel.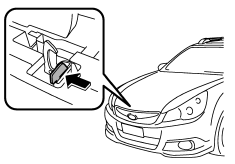 3. Release the secondary hood release by moving the lever between the front grille and the hood toward the left.
4. Lift up the hood.
To close the hood:
1. Lower the hood to a height of approximately 5.9 in (15 cm) above its closed position and then let it drop.
2. After closing the hood, be sure the hood is securely locked.
If this does not close the hood, release it from a slightly higher position. Do not push the hood forcibly to close it. It could deform the metal.
WARNING
Always check that the hood is properly locked before you start driving. If it is not, it might fly open while the vehicle is moving and block your view, which may cause an accident and serious bodily injury.
See also:
Channel scan
If you press the "SCAN" button while the radio is in the category search mode, the radio turns to the category SCAN mode. In the category SCAN mode, the radio scans only channels in the selected ...
Dome light
1) ON 2) DOOR 3) OFF The dome light switch has three positions: ON: The light remains on continuously. OFF: The light remains off. DOOR: The dome light illuminates automatically in the followi ...
Sporty, Spacious and Versatile Interior
New for 2011, the WRX STI interior is finished in black and silver to highlight its sporty design. Trim panels, the steering wheel air bag cover and steering wheel switches are now dark cast metal ...