Engine hood
To open the hood:
1. If the wiper blades are lifted off the windshield, return them to their original positions.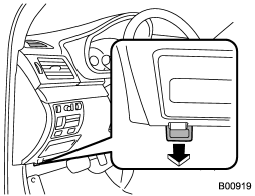 2. Pull the hood release knob under the instrument panel.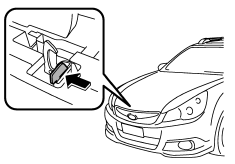 3. Release the secondary hood release by moving the lever between the front grille and the hood toward the left.
4. Lift up the hood.
To close the hood:
1. Lower the hood to a height of approximately 5.9 in (15 cm) above its closed position and then let it drop.
2. After closing the hood, be sure the hood is securely locked.
If this does not close the hood, release it from a slightly higher position. Do not push the hood forcibly to close it. It could deform the metal.
WARNING
Always check that the hood is properly locked before you start driving. If it is not, it might fly open while the vehicle is moving and block your view, which may cause an accident and serious bodily injury.
See also:
Preset buttons
How to preset channels 1. Press the "SAT" button to select SAT1, SAT2 and SAT3 reception. 2. Select the desired channel. 3. Press one of the preset buttons for more than 1.5 seconds to store the ch ...
Brake booster
The brake booster uses engine manifold vacuum to assist braking force. Do not turn off the engine while driving because that will turn off the brake booster, resulting in poor braking power. ...
Temperature sensors
1) Solar sensor 2) Interior air temperature sensor The automatic climate control system employs several sensors. These sensors are delicate. If they are treated incorrectly and become damaged, t ...