Pulling off the fender lining
It is necessary to pull off the fender lining when replacing some bulbs.
1. Start the engine and turn the steering wheel fully in the opposite direction of the bulb to be replaced.
2. Stop the engine.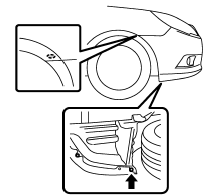 3. Remove the clip from the fender lining. Refer to "Type B clips" F11-5.
4. Pull off the fender lining.
See also:
Connectable USB storage device
Mass storage class USB memory can be connected. USB storage devices that can be played back are accompanied by the following restrictions. - Maximum directory layers: 8 layers (including the ...
Other markings
The following makings are also placed on the sidewall. Maximum permissible inflation pressure The maximum cold inflation pressure to which this tire may be inflated. For example, "350 kPa (51 PSI) ...
Meters and gauges
NOTE Liquid crystal displays are used in some of the meters and gauges in the combination meter. You will find their indications hard to see if you wear polarized glasses. ...