Pulling off the fender lining
It is necessary to pull off the fender lining when replacing some bulbs.
1. Start the engine and turn the steering wheel fully in the opposite direction of the bulb to be replaced.
2. Stop the engine.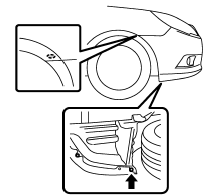 3. Remove the clip from the fender lining. Refer to "Type B clips" F11-5.
4. Pull off the fender lining.
See also:
Driving tips
Do not drive with your foot resting on the clutch pedal and do not use the clutch to hold your vehicle at a standstill on an upgrade. Either of those actions may cause clutch damage. Do not drive wit ...
2011 Subaru Impreza WRX STi review By Scott Burgess
We all play favorites. Is that why we have elections? Or is it just for the commercials? In the automotive world, car buyers play favorites as well ∔ weighing the pros and cons of differ ...