Gross Vehicle Weight (GVW) and Gross Vehicle Weight Rating (GVWR)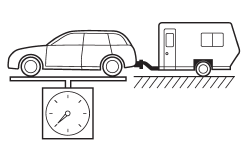 Gross Vehicle Weight
The Gross Vehicle Weight (GVW) must never exceed the Gross Vehicle Weight Rating (GVWR).
Gross Vehicle Weight (GVW) is the combined total of the weight of the vehicle, driver, passengers, luggage, trailer hitch, trailer tongue load and any other optional equipment installed on your vehicle. Therefore, the GVW changes depending on the situation. Determine the GVW each time before going on a trip by putting your vehicle and trailer on a vehicle scale. GVWR is shown on the certification label located on the driver's door of your vehicle.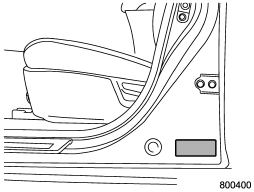 Certification label
See also:
Tripped sensor identification
The security indicator light flashes when the alarm system has been triggered. Also, the number of flashes indicates the location of unauthorized intrusion or the severity of impact on the vehicle ...
Trunk lid (Legacy) – if the trunk lid cannot be opened
The trunk lid can also be opened using the key. To open the trunk lid, insert the key into the key cylinder and turn it clockwise. ...
Operating the passengers' windows
Operating the passengers' windows To open: Push the appropriate switch down and hold it until the window reaches the desired position. To close: Pull the switch up and hold it until the wi ...