Catalytic converter
WARNING
● Avoid fire hazards. Do not drive or park the vehicle anywhere near flammable materials (e.g. grass, paper, rags or leaves), because the catalytic converter operates at very high temperatures.
● Keep everyone and flammable materials away from the exhaust pipe while the engine is running. The exhaust gas is very hot.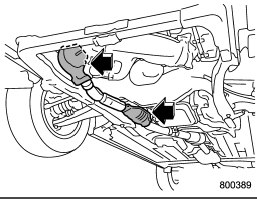 2.5 L non-turbo models
2.5 L turbo models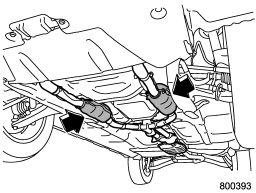 3.6 L models
The catalytic converter is installed in the exhaust system. It serves as catalyst to reduce HC, CO and NOx in exhaust gases, thus providing cleaner exhaust.
To avoid damage to the catalytic converter:
● Use only unleaded gasoline. Even a small amount of leaded gasoline will damage the catalytic converter.
● Never start the engine by pushing or pulling the vehicle.
● Avoid racing the engine.
● Never turn off the ignition switch while the vehicle is moving.
● Keep your engine tuned-up. If you feel the engine running rough (misfiring, backfiring or incomplete combustion), have your vehicle checked and repaired by an authorized SUBARU dealer.
● Do not apply undercoating or rust prevention treatment to the heat shield of catalytic converter and the exhaust system.
● Do not drive with an extremely low fuel level.
See also:
Entering the vehicle while it is running via remote start
1. Unlock the vehicle doors using the remote keyless entry system. If the vehicle's doors are unlocked manually using the key, the vehicle's alarm system will trigger (if the alarm system is armed ...
Auto-dimming mirror with compass (if equipped)
1) LED 2) Switch 3) Sensor 4) Compass display The auto-dimming mirror has an anti-glare feature which automatically reduces glare coming from headlights of vehicles behind you. It also contain ...
Folding down the rear seatback
WARNING ● When you fold down the seatback, check that there are no passengers or objects on the rear seat. Not doing so creates a risk of injury or property damage if the seatback suddenly ...