Center console box (rear)
The center console box has a two-layer structure consisting of an upper compartment and a lower compartment.
Upper compartment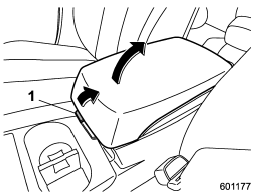 1) Upper compartment lock release Pull up the upper compartment lock release to open the upper compartment.
Lower compartment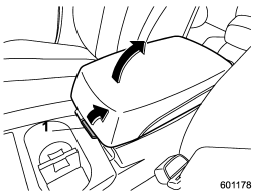 1) Lower compartment lock release
Pull up the lower compartment lock release to open the lower compartment.
See also:
Stereo indicator
The stereo indicator "ST" will illuminate when an FM stereo broadcast is received. ...
Windshield washer fluid warning light
This light illuminates when the fluid level in the windshield washer fluid tank decreases to the lower limit (approximately 0.6 US qt, 0.6 liter, 0.5 Imp qt). ...
Tire labeling
Many markings (e.g. Tire size, Tire Identification Number or TIN) are placed on the sidewall of a tire by tire manufacturers. These markings can provide you with useful information on the tire. ...