Center console box (rear)
The center console box has a two-layer structure consisting of an upper compartment and a lower compartment.
Upper compartment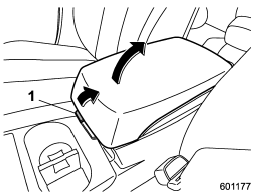 1) Upper compartment lock release Pull up the upper compartment lock release to open the upper compartment.
Lower compartment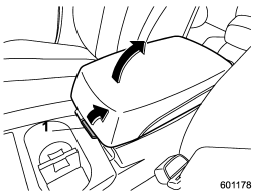 1) Lower compartment lock release
Pull up the lower compartment lock release to open the lower compartment.
See also:
Folding down the rear seatback
WARNING ● When you fold down the seatback, check that there are no passengers or objects on the rear seat. Not doing so creates a risk of injury or property damage if the seatback suddenly ...
Safety symbol
You will find a circle with a slash through it in this manual. This symbol means "Do not", "Do not do this", or "Do not let this happen", depending upon the context. ...
Power switch and volume control
The dial is used for both power (ON/OFF) and volume control. The radio is turned ON and OFF by pressing the dial, and the volume is controlled by turning the dial. ...