Ejecting a CD from the player

Disc select buttons
1. Use the disc select button to select the disc to be ejected.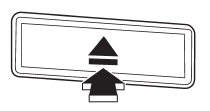 2. Briefly press the У

Ф button. The
selected disc will be ejected. The disc number indicator will flash at this time. When you remove the ejected disc, the disc number indicator will turn off. To remove more discs in succession, repeat steps 1 and 2.
See also:
Unleaded gasoline
The neck of the fuel filler pipe is designed to accept only an unleaded gasoline filler nozzle. Under no circumstances should leaded gasoline be used because it will damage the emission control system ...
Removing and reinstalling clips
Removing clips There are several types of clips used for your vehicle Type A clips 1. Turn the clips counterclockwise using a flat-head screwdriver until the center portion of the clip is raise ...
Installation of accessories
Always consult your SUBARU dealer before installing fog lights or any other electrical equipment in your vehicle. Such accessories may cause the electronic system to malfunction if they are in ...