How to eject a CD from the player (type A)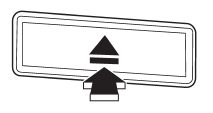 When a disc is being played back or when a disc is in the player, press the eject button У

Ф. The disc will be ejected.
NOTE
● Avoid driving the vehicle with a CD sticking out, because vibration might make it fall out.
● If you do not remove the ejected disc within approximately 15 seconds, a disc protection function will operate, automatically reloading the disc. In this case, the disc is not played.
See also:
Active head restraint
The front seats of your vehicle are equipped with active head restraints. They automatically tilt forward slightly in the event the vehicle is struck from the rear, decreasing the amount of ...
Checking the fluid level
The automatic transmission fluid expands largely as its temperature rises; the fluid level differs according to fluid temperature. Therefore, there are two different scales for checking the lev ...
Defrosting or defogging the windshield
Defrosting or defogging the windshield To direct warm air to the windshield and front door windows: 1. Set the airflow control dial to the УФ position. 2. Turn the temperature control dial all the ...