Scan tuning (SCAN)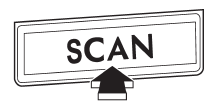 If you press the "SCAN" button, the radio will switch to the scan mode. In this mode, the radio scans through the radio band until a station is found. The radio will stop at the station for 5 seconds while displaying the frequency, after which scanning will continue until the entire band has been scanned.
Press the "SCAN" button again to cancel the SCAN mode. If you press the "SCAN" button while the radio is stopped at a station, the radio stays stopped at that station. If you press the button while the radio is scanning, the radio stops at the next receivable station.
Automatic tuning may not function properly if the station reception is weakened by distance from the station or proximity to tall buildings and hills.
See also:
Type B seat heater
Type B seat heater Each seat heater has four levels of adjustment. To use the heater in the right-hand seat, turn the "R" adjustment dial forward until the "" mark reaches the desired position. To ...
ABS system self-check
Just after the vehicle is started, you may feel on the brake pedal a vibration similar to when the ABS operates, and you may also hear the sound of the ABS working from the engine compartment. This is ...
Taking a phone call and declining an incoming call
To take a phone call: Press the OFF hook switch0 . To put an incoming call on hold: Press the ON hook switch briefly . To decline an incoming call: Press the ON hook switch for more than 1.5 sec ...