Scan tuning (SCAN)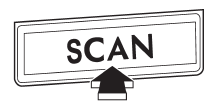 If you press the "SCAN" button, the radio will switch to the scan mode. In this mode, the radio scans through the radio band until a station is found. The radio will stop at the station for 5 seconds while displaying the frequency, after which scanning will continue until the entire band has been scanned.
Press the "SCAN" button again to cancel the SCAN mode. If you press the "SCAN" button while the radio is stopped at a station, the radio stays stopped at that station. If you press the button while the radio is scanning, the radio stops at the next receivable station.
Automatic tuning may not function properly if the station reception is weakened by distance from the station or proximity to tall buildings and hills.
See also:
Measuring and adjusting air pressure to achieve proper inflation
Check and, if necessary, adjust the pressure of each tire (including the spare) at least once a month and before any long journey. Check the tire pressures when the tires are cold. Use a pressure gaug ...
Shift lock release
If the select lever cannot be operated, turn the ignition switch back to the "ON" position then move the select lever to the "P" position with the brake pedal depressed. If the select lever doe ...
Operating the driver's window (type A)
Operating the driver's window (type A) 1) Automatically open/close 2) Open/close To open: Push the switch down lightly and hold it. The window will open as long as the switch is held. This switc ...