Scan tuning (SCAN)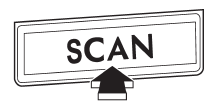 If you press the "SCAN" button, the radio will switch to the scan mode. In this mode, the radio scans through the radio band until a station is found. The radio will stop at the station for 5 seconds while displaying the frequency, after which scanning will continue until the entire band has been scanned.
Press the "SCAN" button again to cancel the SCAN mode. If you press the "SCAN" button while the radio is stopped at a station, the radio stays stopped at that station. If you press the button while the radio is scanning, the radio stops at the next receivable station.
Automatic tuning may not function properly if the station reception is weakened by distance from the station or proximity to tall buildings and hills.
See also:
To disengage the service mode
Turn the ignition switch to the "ON" position, depress and hold the brake pedal, then press and release the "" button on the remote control transmitter three times. The system will pause for ...
Driving tips
● On a road surface where there is a risk of wheelspin (for example, a snow- or gravel-covered road), you can pull away from a standstill safely and easily by first selecting the 2nd gear of ...
Safety
Still think you can't have it all? Check out the Impreza's crash tests, which at the time of publication are the best in the Insurance Institute for Highway Safety's Small Car class, with top scor ...