Scan tuning (SCAN)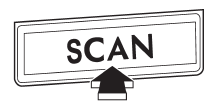 If you press the "SCAN" button, the radio will switch to the scan mode. In this mode, the radio scans through the radio band until a station is found. The radio will stop at the station for 5 seconds while displaying the frequency, after which scanning will continue until the entire band has been scanned.
Press the "SCAN" button again to cancel the SCAN mode. If you press the "SCAN" button while the radio is stopped at a station, the radio stays stopped at that station. If you press the button while the radio is scanning, the radio stops at the next receivable station.
Automatic tuning may not function properly if the station reception is weakened by distance from the station or proximity to tall buildings and hills.
See also:
Treadwear
The treadwear grade is a comparative rating based on the wear rate of the tire when tested under controlled conditions on a specified government test course. For example, a tire graded 150 would wear ...
Example of the type of accident in which the SRS curtain airbag will basically not deploy.
The SRS curtain airbags are not basically designed to deploy if the vehicle pitches end over end. ...
Edgy exterior
While the interior may feel cheap, the exterior on either model is chunky and edgy. The big air intake on the hood, which always takes a little getting used, still adds to the car's looks instead ...