Replacing an air filter
1. Remove the glove box.
(1) Open the glove box.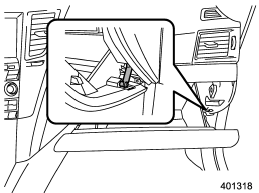 (2) Remove the damper shaft from the glove box.
(3) Pull out the glove box.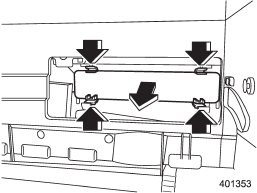 2. Remove the cover of the air filter.
3. Remove the air filter.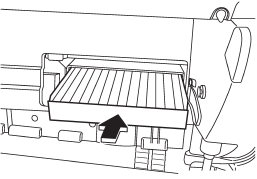 4. Replace the air filter element with a new one.
5. Reinstall the cover of the air filter.
CAUTION
The arrow mark on the filter must point UP.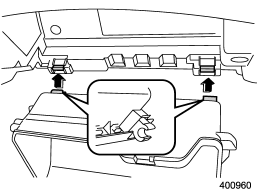 6. Reinstall the glove box, and connect the damper shaft.
7. Close the glove box.
8. LABEL installation
(1) Fill out the information on the service label (small).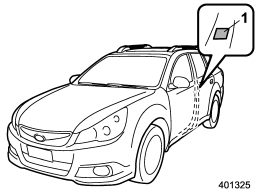 1) Service label
(2) Attach the service label to the driver's side door pillar.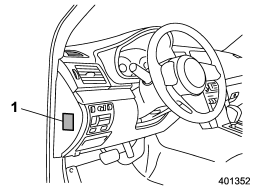 1) Caution label
(3) Attach the caution label on the driver's side of the instrument panel as shown in the illustration.
See also:
Cruise control indicator light
This light illuminates when the "CRUISE" main switch is pressed. If you press the main switch button while turning the ignition switch "ON", the cruise control function is deactivated and t ...
Checking the coolant level
Never attempt to remove the radiator cap until the engine has been shut off and has cooled down completely. Since the coolant is under pressure, you may suffer serious burns from a spray of boilin ...
Cargo area cover (if equipped)
The cargo area cover is provided for covering the cargo area and to protect its contents from direct sunlight. This cover is detachable to make room for additional cargo. ...