Temperature sensors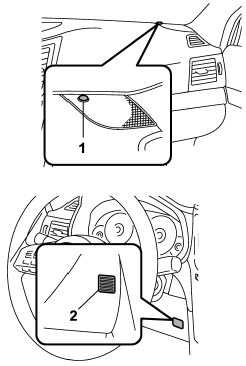 1) Solar sensor
2) Interior air temperature sensor
The automatic climate control system employs several sensors. These sensors are delicate. If they are treated incorrectly and become damaged, the system may not be able to control the interior temperature correctly. To avoid damaging the sensors, observe the following precautions:
– Do not subject the sensors to impact.
– Keep water away from the sensors.
– Do not cover the sensors.
The sensors are located as follows:
– Solar sensor: beside the speaker grille on the dashboard – Interior air temperature sensor: on the side of the driver-side part of the center panel
– Outside temperature sensor: behind front grille.
See also:
Temperature A, B, C
The temperature grades are A (the highest), B, and C, representing the tire's resistance to the generation of heat and its ability to dissipate heat when tested under controlled conditions on a specif ...
To increase the speed (by accelerator pedal)
1. Depress the accelerator pedal to accelerate the vehicle to the desired speed. 2. Press the "RES/SET" switch to the "SET" side once. Now the desired speed is set and the vehicle will keep running ...
To install the cover housing
1. Remove the cover of the retainers by prying on the edge with a flat-head screwdriver. 2. Insert the projections located on the both ends of the sleeve into the recesses of the reta ...