Temperature sensors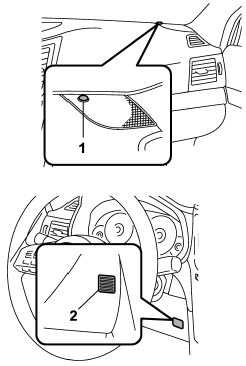 1) Solar sensor
2) Interior air temperature sensor
The automatic climate control system employs several sensors. These sensors are delicate. If they are treated incorrectly and become damaged, the system may not be able to control the interior temperature correctly. To avoid damaging the sensors, observe the following precautions:
– Do not subject the sensors to impact.
– Keep water away from the sensors.
– Do not cover the sensors.
The sensors are located as follows:
– Solar sensor: beside the speaker grille on the dashboard – Interior air temperature sensor: on the side of the driver-side part of the center panel
– Outside temperature sensor: behind front grille.
See also:
Removing air intake duct
Use a screwdriver to undo the clips on the air intake duct, then remove the air intake duct. Refer to "Type A clips" F11-5. ...
Parking in cold weather
Do not use the parking brake when parking for long periods in cold weather since it could freeze in that position. Instead, you should observe the following tips. 1. Place the shift lever in "1" or ...
When "CHECK DEVICE" is displayed
This message is displayed under the following conditions. - When there is a short in the USB bus - When a non-corresponding device (for example a USB mouse) is connected - When a non-correspo ...