To arm the system using remote transmitter
1. Close all windows and the moonroof (if equipped).
2. Remove the key from the ignition switch.
3. Open the doors and get out of the vehicle.
4. Make sure that the engine hood (and the trunk lid (Legacy)) are locked.
5. Close all doors (and the rear gate (Outback)).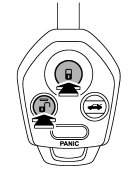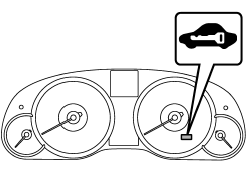 6. Briefly press the "

" button (for
less than 2 seconds). All doors (and the rear gate (Outback)) will lock, an electronic chirp will sound once, the turn signal lights will flash once, and the security indicator light will start flashing rapidly. After rapid flashing for 30 seconds (standby time), the security indicator light will then flash slowly (twice approximately every 2 seconds), indicating that the system has been armed for surveillance.
If any of the doors (rear gate or trunk lid) is not fully closed, an electronic chirp sounds five times, the turn signal lights flash five times to alert you that the doors (or the rear gate) are not properly closed. When you close the door, the system will automatically arm and doors will automatically lock.
See also:
Rear wiper
To turn the rear wiper on, turn the knob on the end of the wiper control lever upward to the "INT" or "ON" position. To turn the wiper off, return the knob on the end of the lever to the "OFF" ...
Maximum permissible inflation pressure
The maximum cold inflation pressure to which this tire may be inflated. For example, "300 kPa (44 PSI) MAX. PRESS" ...
Starting your vehicle
NOTE All vehicle doors, the engine hood and trunk / rear gate must be closed prior to activating the remote engine start system. Any open entry point will prevent starting or cause the system t ...