Expectant mothers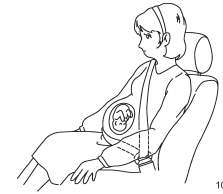 Expectant mothers also need to use the seatbelts. They should consult their doctor for specific recommendations. The lap belt should be worn securely and as low as possible over the hips, not over the waist.
See also:
Driving on grades
● Before going down a steep hill, slow down and shift into lower gear (if necessary, use 1st gear) in order to utilize the overheating of your vehicle's brakes. Do not make sudden downshifts ...
Making a phone call by saying name
1. Select the top menu (phone menu). 2. Press the talk switch . 3. Say "DIAL BY NAME". 4. Press the talk switch again. 5. Say the desired name (voice tag) to be called. 6. Select the "DIAL" me ...
PTY (Program type) group tuning (only FM reception)
Press the "PTY/CAT" button to change to the PTY selection mode. At this time, the PTY group that you are currently listening to will be displayed for 10 seconds. In PTY selection mode, "PTY SEL" ...