Expectant mothers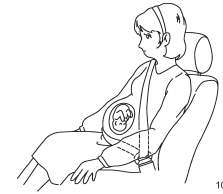 Expectant mothers also need to use the seatbelts. They should consult their doctor for specific recommendations. The lap belt should be worn securely and as low as possible over the hips, not over the waist.
See also:
When there is no CD inserted
Insert a CD by referring to УHow to insert a CD (type A)Ф F5-19 / УHow to insert a CD (s) (type B)Ф F5-19. When a CD is loaded, the player will start playback of the CD, beginning with the first ...
Brake booster
The brake booster uses engine manifold vacuum to assist braking force. Do not turn off the engine while driving because that will turn off the brake booster, resulting in poor braking power. The ...
Towing
WARNING Never tow AWD vehicles (including AT, MT and CVT) with the front wheels raised off the ground while the rear wheels are on the ground, or with the rear wheels raised off the ground while ...