Maximum allowable speeds
WARNING
When shifting down a gear, ensure that the vehicle is not travelling at a speed exceeding the Maximum Allowable Speed for the gear which is about to be selected. Failure to observe this precaution can lead to engine over-revving and this in turn can result in engine damage.
In addition, sudden application of engine brakes when the vehicle is travelling on a slippery surface can lead to wheel locking; as a consequence, control of the vehicle may be lost and the risk of an accident increased.
The following table shows the maximum speeds that are possible with each different gear. The tachometer's needle will enter the red area if these speeds are exceeded.
With the exception of cases where sudden acceleration is required, the vehicle should not be driven with the tachometer's needle inside the red area. Failure to observe this precaution can lead to excessive engine wear and poor fuel economy.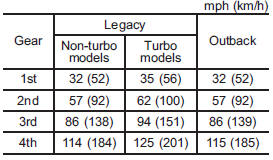 NOTE
Never exceed posted speed limits.
See also:
When CD is in the player (type A)
When the button is pressed, the player will start playback. ...
Tribeca in the Market
In April, new-car sales of the Tribeca totaled a lackluster 241 units. Sales numbers aren't always an indication of a good or bad product, but in this case, it seems seven-seat crossover shoppers ...
Sun shade
Sun shade The sun shade can be slid forward or backward by hand while the moonroof is closed. If the moonroof is opened, the sun shade also moves back. ...