U.S.-spec. models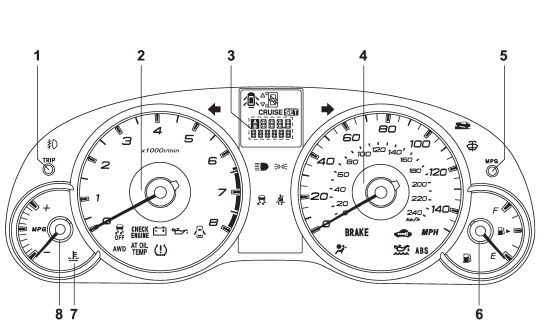 1) Trip meter A/B selection and trip meter reset knob (page 3-6) 2) Tachometer (page 3-7) 3) Trip meter and odometer (page 3-6) 4) Speedometer (page 3-6) 5) Multi function display switching knob (page 3-25) 6) Fuel gauge (page 3-7) 7) Coolant temperature warning/indicator light (page 3-13) 8) ECO gauge (page 3-8)
See also:
Tripped sensor identification
The security indicator light flashes when the alarm system has been triggered. Also, the number of flashes indicates the location of unauthorized intrusion or the severity of impact on the vehi ...
Air cleaner element
Do not operate the engine with the air cleaner element removed. The air cleaner element not only filters intake air but also stops flames if the engine backfires. If the air cleaner element is not ...
Shock sensors (dealer option)
The shock sensors trigger the alarm system when they sense impacts applied to the vehicle and when any of their electric wires is cut. The alarm system causes the horn to sound and the turn signal ...