Main fuse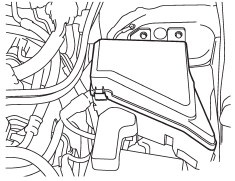 Main fuse box
The main fuses are designed to melt during an overload to prevent damage to the wiring harness and electrical equipment. Check the main fuses if any electrical component fails to operate (except the starter motor) and other fuses are good. A melted main fuse must be replaced. Use only replacements with the same specified rating as the melted main fuse. If a main fuse blows after it is replaced, have the electrical system checked by your nearest SUBARU dealer.
See also:
Turbo models
Your vehicle is equipped with "summer tires" as original equipment, which are inadequate for driving on slippery roads such as on snow-covered or icy roads. Compared with winter and all-season tires, ...
Scan tuning (SCAN)
If you press the "SCAN" button, the radio will switch to the scan mode. In this mode, the radio scans through the radio band until a station is found. The radio will stop at the station for 5 se ...
Fluids
*1: Use one of the indicated types of fluid. *2: The indicated fluid quantity is only a guideline. The necessary quantity for replacement may differ slightly depending on the temperature and othe ...