Tire rotation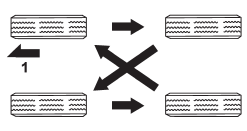 Vehicles equipped with 4 non-unidirectional tires
1) Front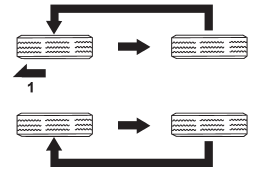 Vehicles equipped with unidirectional tires
1) Front
Tire wear varies from wheel to wheel. To maximize the life of each tire and ensure that the tires wear uniformly, it is best to rotate the tires every 7,500 miles (12,000 km). Move the tires to the positions shown in the applicable illustration each time they are rotated.
Replace any damaged or unevenly worn tire at the time of rotation. After tire rotation, adjust the tire pressures and make sure the wheel nuts are correctly tightened.
After driving approximately 600 miles (1,000 km), check the wheel nuts again and retighten any nut that has become loose.
See also:
When the brakes get wet
When driving in rain or after washing the vehicle, the brakes may get wet. As a result, brake stopping distance will be longer. To dry the brakes, drive the vehicle at a safe speed while lightly d ...
Side ventilators
Side ventilators 1) Open 2) Close 3) Thumb-wheel Move the tab to adjust the flow direction. To open or close the ventilator, turn the thumb-wheel up or down. ...
Drugs and driving
There are some drugs (over the counter and prescription) that can delay your reaction time and impair your perception, judgment and attentiveness. If you drive after taking them, it may increase yo ...