Tire rotation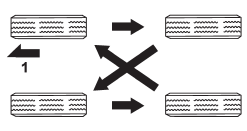 Vehicles equipped with 4 non-unidirectional tires
1) Front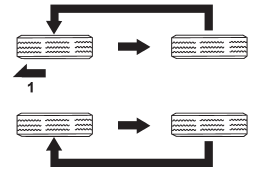 Vehicles equipped with unidirectional tires
1) Front
Tire wear varies from wheel to wheel. To maximize the life of each tire and ensure that the tires wear uniformly, it is best to rotate the tires every 7,500 miles (12,000 km). Move the tires to the positions shown in the applicable illustration each time they are rotated.
Replace any damaged or unevenly worn tire at the time of rotation. After tire rotation, adjust the tire pressures and make sure the wheel nuts are correctly tightened.
After driving approximately 600 miles (1,000 km), check the wheel nuts again and retighten any nut that has become loose.
See also:
Two separate circuits
Your vehicle has a dual circuit brake system. Each circuit works diagonally across the vehicle. If one circuit of the brake system should fail, the other half of the system still works. If one cir ...
Engine overheating
Never attempt to remove the radiator cap until the engine has been shut off and has fully cooled down. When the engine is hot, the coolant is under pressure. Removing the cap while the engine is ...
Deleting registered cell phone from the list
1. Select the "SETUP" menu. 2. Select the "PHONE SETUP" menu. 3. Select the "DELETE" menu. 4. Select a cell phone to be deleted by operating the "TUNE/TRACK/CH" dial or saying a voice tag. 5. Sele ...