Tire rotation direction mark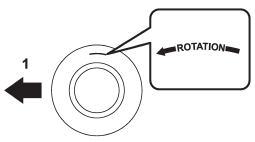 Example of tire rotation direction mark 1) Front
If the tire has a rotation direction specification, the tire rotation direction mark is placed on its sidewall.
When you install a tire that has the tire rotation direction mark, install the tire with the direction mark facing forward.
See also:
Checking the fluid level
The power steering fluid expands greatly as its temperature rises; the fluid level differs according to fluid temperature. Therefore, the reservoir tank has two different checking ranges for hot an ...
Making a phone call by saying name
1. Select the top menu (phone menu). 2. Press the talk switch . 3. Say УDIAL BY NAMEФ. 4. Press the talk switch again. 5. Say the desired name (voice tag) to be called. 6. Select the УDIALФ me ...
Operation during cold weather
Carry some emergency equipment, such as a window scraper, a bag of sand, flares, a small shovel and jumper cables. Check the battery and cables. Cold temperatures reduce battery capacity. The batter ...