Wear indicators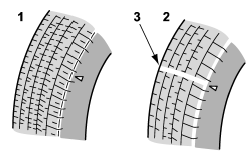 1) New tread
2) Worn tread
3) Tread wear indicator
Each tire incorporates a tread wear indicator, which becomes visible when the depth of the tread grooves decreases to 0.063 in (1.6 mm). A tire must be replaced when the tread wear indicator appears as a solid band across the tread.
WARNING
When a tire's tread wear indicator becomes visible, the tire is worn beyond the acceptable limit and must be replaced immediately. With a tire in this condition, driving at high speeds in wet weather can cause the vehicle to hydroplane. The resulting loss of vehicle control can lead to an accident.
NOTE
For safety, inspect the tire tread regularly and replace the tires before their tread wear indicators become visible.
See also:
Electrical system
AT: Automatic transmission MT: Manual transmission ...
Periodic inspections
To keep your vehicle in the best condition at all times, always have the recommended maintenance services listed in the maintenance schedule in the "Warranty and Maintenance Booklet" performed at the ...
Front passenger's frontal airbag ON and OFF indicators
The front passenger's frontal airbag ON and OFF indicators show you the status of the front passenger's SRS frontal airbag. The indicators are located next to the clock in the center portion o ...