Wear indicators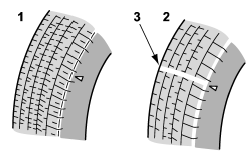 1) New tread
2) Worn tread
3) Tread wear indicator
Each tire incorporates a tread wear indicator, which becomes visible when the depth of the tread grooves decreases to 0.063 in (1.6 mm). A tire must be replaced when the tread wear indicator appears as a solid band across the tread.
WARNING
When a tire's tread wear indicator becomes visible, the tire is worn beyond the acceptable limit and must be replaced immediately. With a tire in this condition, driving at high speeds in wet weather can cause the vehicle to hydroplane. The resulting loss of vehicle control can lead to an accident.
NOTE
For safety, inspect the tire tread regularly and replace the tires before their tread wear indicators become visible.
See also:
4-door models
1. Remove the clip from the rear trunk trim with a screwdriver. 2. Open the rear portion of the side trunk trim panel. 1) Brake/tail and rear side marker light 2) Rear turn signal light 3) Bac ...
Windshield wipers
MIST : Mist (for a single wipe) OFF : Off INT: Intermittent LO: Low speed HI: High speed To turn the wipers on, push the wiper control lever down. To turn the wipers off, return the lever to t ...
Recommended grade and viscosity
Each oil manufacturer has its own base oils and additives. Never use different brands together. For details, refer to "Manual transmission, front differential and rear differential gear oil" F12-6 ...