Wear indicators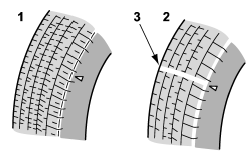 1) New tread
2) Worn tread
3) Tread wear indicator
Each tire incorporates a tread wear indicator, which becomes visible when the depth of the tread grooves decreases to 0.063 in (1.6 mm). A tire must be replaced when the tread wear indicator appears as a solid band across the tread.
WARNING
When a tire's tread wear indicator becomes visible, the tire is worn beyond the acceptable limit and must be replaced immediately. With a tire in this condition, driving at high speeds in wet weather can cause the vehicle to hydroplane. The resulting loss of vehicle control can lead to an accident.
NOTE
For safety, inspect the tire tread regularly and replace the tires before their tread wear indicators become visible.
See also:
2010 Subaru Legacy review
The 2010 Subaru Legacy's redesign has been long overdue. Its sophisticated new look is sleek, but as Mom always says it's what's on the inside that counts. The sedan's redesign added nearly 4 inch ...
4-door models
1. Lower the head restraints. 2. Unlock the seatback by pulling the release strap and then fold the seatback down. To return the seatback to its original position, raise the seatback until it lock ...
If steam is coming from the engine compartment
Turn off the engine and get everyone away from the vehicle until it cools down. ...