Wear indicators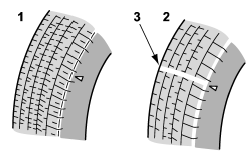 1) New tread
2) Worn tread
3) Tread wear indicator
Each tire incorporates a tread wear indicator, which becomes visible when the depth of the tread grooves decreases to 0.063 in (1.6 mm). A tire must be replaced when the tread wear indicator appears as a solid band across the tread.
WARNING
When a tire's tread wear indicator becomes visible, the tire is worn beyond the acceptable limit and must be replaced immediately. With a tire in this condition, driving at high speeds in wet weather can cause the vehicle to hydroplane. The resulting loss of vehicle control can lead to an accident.
NOTE
For safety, inspect the tire tread regularly and replace the tires before their tread wear indicators become visible.
See also:
Key number plate
The key number is stamped on the key number plate attached to the key set. Write down the key number and keep it in another safe place, not in the vehicle. This number is needed to make a replacement ...
Windshield washer fluid warning light
This light illuminates when the fluid level in the windshield washer fluid tank decreases to the lower limit (approximately 0.6 US qt, 0.6 liter, 0.5 Imp qt). ...
Auto-dimming mirror with compass (if equipped)
1) LED 2) Switch 3) Sensor 4) Compass display The auto-dimming mirror has an anti-glare feature which automatically reduces glare coming from headlights of vehicles behind you. It also contain ...