Wear indicators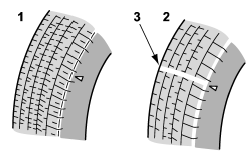 1) New tread
2) Worn tread
3) Tread wear indicator
Each tire incorporates a tread wear indicator, which becomes visible when the depth of the tread grooves decreases to 0.063 in (1.6 mm). A tire must be replaced when the tread wear indicator appears as a solid band across the tread.
WARNING
When a tire's tread wear indicator becomes visible, the tire is worn beyond the acceptable limit and must be replaced immediately. With a tire in this condition, driving at high speeds in wet weather can cause the vehicle to hydroplane. The resulting loss of vehicle control can lead to an accident.
NOTE
For safety, inspect the tire tread regularly and replace the tires before their tread wear indicators become visible.
See also:
Safety
Still think you can't have it all? Check out the Impreza's crash tests, which at the time of publication are the best in the Insurance Institute for Highway Safety's Small Car class, with top scor ...
Convex mirror (passenger side)
Objects look smaller in a convex mirror and farther away than when viewed in a flat mirror. Do not use the convex mirror to judge the distance of vehicles behind you when changing lanes. Use the i ...
To install the cover housing
1. To install the cover housing, insert both ends of the cover housing into the retainers. 2. Make sure to fix the front part of the cargo area cover behind the rear seat. ...