Checking the brake pedal reserve distance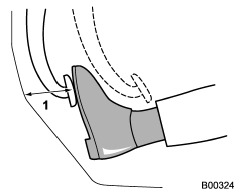 1) More than 2.56 in (65 mm)
Depress the pedal with a force of approximately 66 lbf (294 N, 30 kgf) and measure the distance between the upper surface of the pedal pad and the floor.
When the measurement is smaller than the specification, or when the pedal does not operate smoothly, contact with your SUBARU dealer.
See also:
Brake booster
The brake booster uses engine manifold vacuum to assist braking force. Do not turn off the engine while driving because that will turn off the brake booster, resulting in poor braking power. The brak ...
Vehicle load limit – how to determine
The load capacity of your vehicle is determined by weight, not by available cargo space. The load limit of your vehicle is shown on the vehicle placard attached to the driver's side B-pillar. Loca ...
Tether anchorage location
Legacy Three tether anchorages are installed on the rear shelf behind the rear seat head restraint. Open the cover flap to use each anchorage. Three tether anchorages, i.e., ones for the right, ...