Checking the brake pedal reserve distance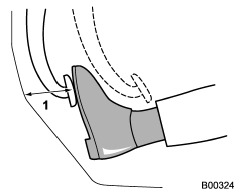 1) More than 2.56 in (65 mm)
Depress the pedal with a force of approximately 66 lbf (294 N, 30 kgf) and measure the distance between the upper surface of the pedal pad and the floor.
When the measurement is smaller than the specification, or when the pedal does not operate smoothly, contact with your SUBARU dealer.
See also:
Trailer hitch (Outback — if equipped)
WARNING ● Never exceed the maximum weight specified for the trailer hitch. Exceeding the maximum weight could cause an accident resulting in serious personal injuries. Permissible trailer w ...
Limited slip differential (LSD) (STI)
The LSD provides optimum distribution of power according to the difference in revolutions between the right and left wheels that may be caused by certain driving conditions, thereby improving driving ...
Tool bag
1) Screwdriver 2) Wheel nut wrench 3) Tool bag 4) Wheel cover remover (only models with wheel covers) 5) Hex-head wrench (only models with moonroof) The screwdriver and wheel nut wrench a ...