Checking the brake pedal reserve distance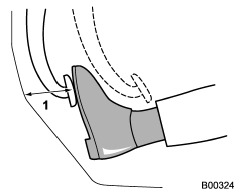 1) More than 2.56 in (65 mm)
Depress the pedal with a force of approximately 66 lbf (294 N, 30 kgf) and measure the distance between the upper surface of the pedal pad and the floor.
When the measurement is smaller than the specification, or when the pedal does not operate smoothly, contact with your SUBARU dealer.
See also:
Temporary spare tire (if equipped)
When a spare tire is mounted or a wheel rim is replaced without the original pressure sensor/transmitter being transferred, the low tire pressure warning light will illuminate steadily a ...
Valet mode
When you choose the valet mode, the alarm system does not operate. In valet mode, the remote transmitter is used only for locking and unlocking the doors and rear gate and panic activation. T ...
Types of tires
You should be familiar with type of tires present on your vehicle. The factory-fitted tires are all-season tires. ...