Checking the brake pedal free play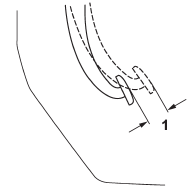 1) 0.08 Ц 0.18 in (2 Ц 5 mm)
Stop the engine and firmly depress the brake pedal several times. Lightly pull the brake pedal up with one finger to check the free play with a force of less than 2 lbf (10 N, 1 kgf).
If the free play is not within proper specification, contact your SUBARU dealer.
See also:
Summer tires
The factory-installed tires on your new 2.5 L turbo models are summer tires. Summer tires are high-speed capability tires best suited for highway driving under dry conditions. Summer tires are in ...
Measuring and adjusting air pressure to achieve proper inflation
Check and, if necessary, adjust the pressure of each tire (including the spare) at least once a month and before any long journey. Check the tire pressures when the tires are cold. Use a pre ...
ABS system self-check
Just after the vehicle is started, you may feel on the brake pedal a vibration similar to when the ABS operates, and you may also hear the sound of the ABS working from the engine compartment. ...