Checking the oil level
AT models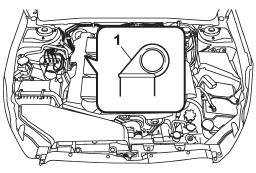 1) Yellow handle
1. Park the vehicle on a level surface and stop the engine.
2. Pull out the level gauge, wipe it clean, and insert it again.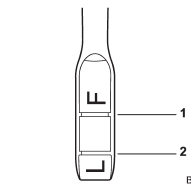 1) Upper level
2) Lower level
3. Pull out the level gauge again and check the oil level on it. If it is below the lower level, add oil to bring the level up to the upper level.
CAUTION
Be careful not to spill front differential gear oil when adding it. If oil touches the exhaust pipe, it may cause a bad smell, smoke, and/or a fire. If oil gets on the exhaust pipe, be sure to wipe it off.
See also:
Adjustable level of each volume
...
Light control switch
The light control switch only operates when the ignition key is inserted into the ignition switch. Regardless of the position of the light control switch, the illuminated lights are turned of ...
Remote keyless entry system
• Do not expose the remote transmitter to severe shocks, such as those experienced as a result of dropping or throwing. • Do not take the remote transmitter apart except when replacing the batter ...