Checking the oil level
AT models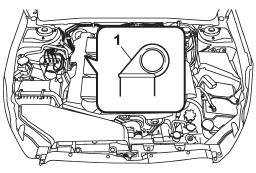 1) Yellow handle
1. Park the vehicle on a level surface and stop the engine.
2. Pull out the level gauge, wipe it clean, and insert it again.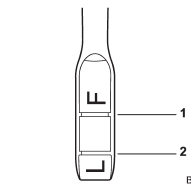 1) Upper level
2) Lower level
3. Pull out the level gauge again and check the oil level on it. If it is below the lower level, add oil to bring the level up to the upper level.
CAUTION
Be careful not to spill front differential gear oil when adding it. If oil touches the exhaust pipe, it may cause a bad smell, smoke, and/or a fire. If oil gets on the exhaust pipe, be sure to wipe it off.
See also:
Warranties and maintenance
vehicle damage or malfunction caused by trailer towing. If you use your vehicle to tow a trailer, more frequent maintenance will be required due to the additional load. (Refer to "Maintenance sche ...
Cruise control set indicator light
The cruise control set indicator light illuminates when the ignition switch is turned to the "ON" position and turns off after approximately 3 seconds. This light illuminates when vehicle speed h ...
Front fog light indicator light (if equipped)
This indicator light is on while the front fog lights are on. ...