Checking the oil level
AT models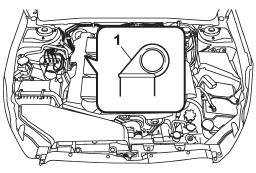 1) Yellow handle
1. Park the vehicle on a level surface and stop the engine.
2. Pull out the level gauge, wipe it clean, and insert it again.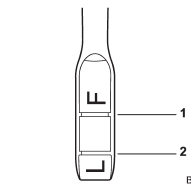 1) Upper level
2) Lower level
3. Pull out the level gauge again and check the oil level on it. If it is below the lower level, add oil to bring the level up to the upper level.
CAUTION
Be careful not to spill front differential gear oil when adding it. If oil touches the exhaust pipe, it may cause a bad smell, smoke, and/or a fire. If oil gets on the exhaust pipe, be sure to wipe it off.
See also:
Recommended brake fluid
Refer to "Fluids". Never use different brands of brake fluid together. Also, avoid mixing DOT 3 and DOT 4 brake fluids even if they are the same brand. ...
Outback
Unlock the seatback by pulling the release lever and then fold the seatback down. To return the seatback to its original position, raise the seatback until it locks into place and make sure that ...
Keys
1) Master key (black) 2) Submaster key (black) 3) Valet key (gray) 4) Key number plate 5) Security ID plate Three types of keys are provided for your vehicle: Master key, submaster key ...