Check the fluid level monthly.
1. Drive the vehicle several miles to raise the temperature of the transmission fluid up to normal operating temperature; 158 to 1768F (70 to 808C) is normal.
2. Park the vehicle on a level surface and set the parking brake.
3. First shift the select lever in each position. Then shift it in the УPФ position, and run the engine at idling speed.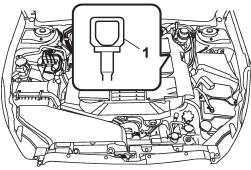 1) Yellow handle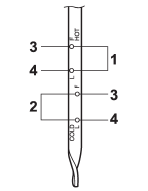 1) HOT range
2) COLD range
3) Upper level
4) Lower level
4. Pull out the level gauge and check the fluid level on the gauge. If it is below the lower level on the УHOTФ range, add the recommended automatic transmission fluid up to the upper level.
See also:
Power switch and volume control
The dial is used for both power (ON/OFF) and volume control. The radio is turned ON and OFF by pressing the dial, and the volume is controlled by turning the dial. ...
Airflow control buttons
Each airflow control button activates the following air outlets. : Instrument panel outlets : Instrument panel outlets and foot outlets : Foot outlets, both side outlets of the instrument p ...
Parking brake lining
1. Drive the vehicle at a speed of approximately 22 mph (35 km/h). 2. With the parking brake release button pushed in, pull the parking brake lever SLOWLY and GENTLY (pulling with a force of approxim ...