Checking the oil level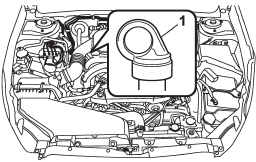 Non-turbo models
1) Yellow handle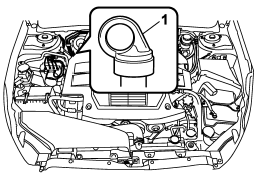 Turbo models
1) Yellow handle
Check the oil level monthly.
1. Park the vehicle on a level surface and stop the engine.
2. Pull out the level gauge, wipe it clean, and insert it again.

1) Upper level
2) Lower level
3. Pull out the level gauge again and check the oil level on it. If it is below the lower level, add oil through the level gauge hole to bring the level up to the upper level.
CAUTION
Be careful not to spill manual transmission oil when adding it. If oil touches the exhaust pipe, it may cause a bad smell, smoke, and/or a fire. If oil gets on the exhaust pipe, be sure to wipe it off.
See also:
To install the cover housing
1. Remove the cover of the retainers by prying on the edge with a flat-head screwdriver. 2. Insert the projections located on the both ends of the sleeve into the recesses of the reta ...
Vanity mirror
Keep the vanity mirror cover closed while the car is being driven to avoid being temporarily blinded by the glare of bright light. Vanity mirror To use the vanity mirror, swing down the sun viso ...
To activate
When the procedure to deactivate the Hill start assist system is performed again, the system is activated. When the Hill start assist system is activated, the Hill start assist OFF indicator light tur ...