Checking the oil level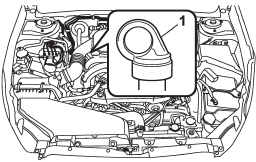 Non-turbo models
1) Yellow handle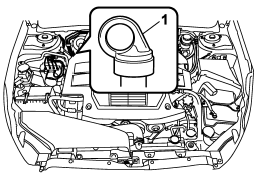 Turbo models
1) Yellow handle
Check the oil level monthly.
1. Park the vehicle on a level surface and stop the engine.
2. Pull out the level gauge, wipe it clean, and insert it again.

1) Upper level
2) Lower level
3. Pull out the level gauge again and check the oil level on it. If it is below the lower level, add oil through the level gauge hole to bring the level up to the upper level.
CAUTION
Be careful not to spill manual transmission oil when adding it. If oil touches the exhaust pipe, it may cause a bad smell, smoke, and/or a fire. If oil gets on the exhaust pipe, be sure to wipe it off.
See also:
Ignition switch
- Never turn the ignition switch to "LOCK" while the vehicle is being driven or towed because that will lock the steering wheel, preventing steering control. And when the engine is turne ...
Manual tuning
Turn the "TUNE/TRACK/CH" dial clockwise to increase the tuning frequency and turn the "TUNE/TRACK/CH" dial counterclockwise to decrease it. Each time the dial is turned, the frequency interval ca ...
Tongue load
Tongue load Ensure that the trailer tongue load is from 8 to 11 percent of the total trailer weight and does not exceed the maximum value of 200 lbs (90 kg). 1) Jack 2) Bathroom scal ...