Checking the oil level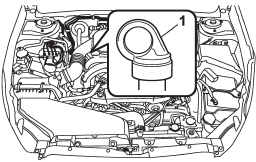 Non-turbo models
1) Yellow handle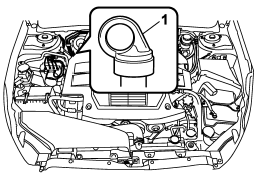 Turbo models
1) Yellow handle
Check the oil level monthly.
1. Park the vehicle on a level surface and stop the engine.
2. Pull out the level gauge, wipe it clean, and insert it again.

1) Upper level
2) Lower level
3. Pull out the level gauge again and check the oil level on it. If it is below the lower level, add oil through the level gauge hole to bring the level up to the upper level.
CAUTION
Be careful not to spill manual transmission oil when adding it. If oil touches the exhaust pipe, it may cause a bad smell, smoke, and/or a fire. If oil gets on the exhaust pipe, be sure to wipe it off.
See also:
Cargo tie-down hooks (5-door Ц if equipped)
The cargo area is equipped with four tiedown hooks so that cargo can be secured with a cargo net or ropes. When using the tie-down hooks, turn them down out of the storing recesses. When not in use ...
Checking the fluid level
Check the fluid level on the outside of the reservoir. If the level is below УMINФ level mark, add the recommended clutch fluid to УMAXФ level mark. Use only clutch fluid from a sealed container. ...
Service mode
In service mode, the remote engine start function is temporarily disabled to prevent the system from unexpectedly starting the engine while being serviced. To engage or disengage service mode: 1. ...