Checking the oil level
Check the engine oil level at each fuel stop.
1. Park the vehicle on a level surface and stop the engine. If you check the oil level just after stopping the engine, wait a few minutes for the oil to drain back into the oil pan before checking the level.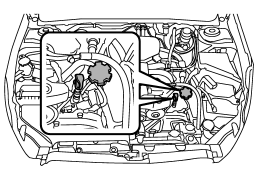 2. Pull out the level gauge, wipe it clean, and insert it again.
3. Be sure the level gauge is correctly inserted until it stops with the graphic symbol "

" on its top appearing as shown
in the illustration.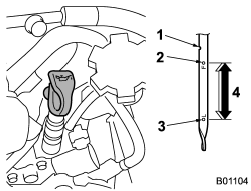 2.5 L models
1) Notch
2) Full level
3) Low level
4) Approximately 1.1 US qt (1.0 liter, 0.9 Imp qt) from low level to full level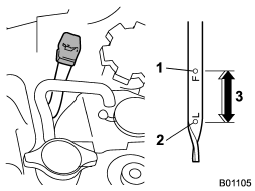 3.6 L models
1) Full level
2) Low level
3) Approximately 1.1 US qt (1.0 liter, 0.9 Imp qt) from low level to full level
4. Pull out the level gauge again and check the oil level on it. If it is below the low level (L), add oil to bring the level up to the full level (F).
CAUTION
● Use only engine oil with the recommended grade and viscosity.
● Be careful not to spill engine oil when adding it. If oil touches the exhaust pipe, it may cause a bad smell, smoke, and/or a fire. If engine oil gets on the exhaust pipe, be sure to wipe it off.
NOTE
● To prevent overfilling the engine oil, do not add any additional oil above the upper level when the engine is cold.
● In 2.5 L engine models, the level gauge has a notch above the upper level. Just after driving or while the engine is warm, the engine oil level reading may be in a range between the upper level and the notch mark. This is caused by thermal expansion of the engine oil.
See also:
Adjusting the front seat shoulder belt anchor height
The shoulder belt anchor height should be adjusted to the position best suited for the driver/front passenger. Always adjust the anchor height so that the shoulder belt passes over the middle of ...
2.0-L DOHC Turbo engine
A newly developed DOHC cylinder head is used in this engine. The intake port and the combustion chamber have been redesigned to reduce residual gasses, thus raising combustion efficiency. By usi ...
Air conditioner compressor shut-off when engine is heavily loaded
To improve acceleration and gas mileage, the air conditioner compressor is designed to temporarily shut off during air conditioner operation whenever the accelerator is fully depressed such as dur ...