3.6 L models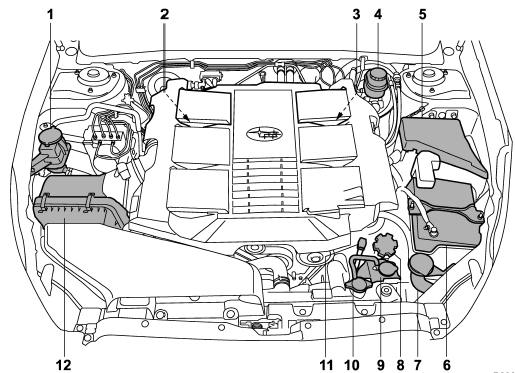 1) Power steering fluid reservoir (page 11-27) 2) Differential gear oil level gauge (page 11-26) 3) Automatic transmission fluid level gauge (page 11-24) 4) Brake fluid reservoir (page 11-28) 5) Fuse box (page 11-46) 6) Battery (page 11-45)
7) Windshield washer tank (page 11-40) 8) Engine oil filler cap (page 11-12) 9) Engine coolant reservoir (page 11-17) 10) Radiator cap (page 11-17) 11) Engine oil level gauge (page 11-12) 12) Air cleaner case (page 11-19)
See also:
Brake pad and lining
While maintaining a speed of 30 to 40 mph (50 to 65 km/h), step on the brake pedal lightly. Repeat this five or more times. ...
Refueling in cold weather
To help prevent moisture from forming in the fuel system and the risk of its freezing, use of an antifreeze additive in the fuel tank is recommended during cold weather. Use only additives that ar ...
Audio set
Your SUBARU may be equipped with one of the following audio sets. See the pages indicated in this section for operating details. NOTE If a cell phone is placed near the audio set, it may cause the ...