2.5 L turbo models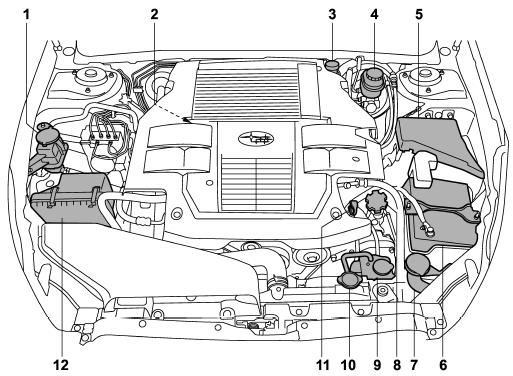 1) Power steering fluid reservoir (page 11-27) 2) Manual transmission oil level gauge (page 11-23) 3) Clutch fluid reservoir (page 11-29) 4) Brake fluid reservoir (page 11-28) 5) Fuse box (page 11-46) 6) Battery (page 11-45)
7) Windshield washer tank (page 11-40) 8) Engine oil filler cap (page 11-12) 9) Engine coolant reservoir (page 11-17) 10) Radiator cap (page 11-17) 11) Engine oil level gauge (page 11-12) 12) Air cleaner case (page 11-19)
See also:
Overview
Subaru of America, Inc. announced that the all-new 2010 Subaru Legacy sedan will debut at the 2009 New York International Auto Show, providing a bolder design language in a larger midsize package. ...
Checking the fluid level
The automatic transmission fluid expands largely as its temperature rises; the fluid level differs according to fluid temperature. Therefore, there are two different scales for checking the level of ...
To help prevent corrosion
Wash the vehicle regularly to prevent corrosion of the body and suspension components. Also, wash the vehicle promptly after driving on any of the following surfaces. ● roads that have been s ...