Moonroof – if moonroof cannot be closed
If the moonroof cannot be closed with the moonroof switch, you can close the moonroof manually.
1. Take out the screwdriver from the tool bucket.
2. Open the overhead console. Refer to "Overhead console" F6-8.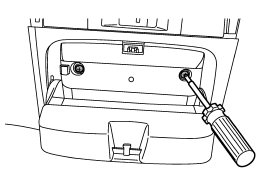 3. Remove the two screws that retain the moonroof switch body. Then, remove the moonroof switch.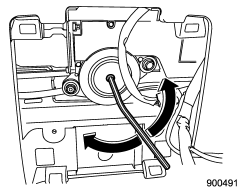 4. Insert the hex-head wrench in the end of the motor shaft.
To lower the moonroof, turn the wrench clockwise.
To close the moonroof, turn the wrench counterclockwise.
Have your vehicle checked and repaired by an authorized SUBARU dealer.
See also:
Breaking-in of new brake pads and linings
When replacing the brake pad or lining, use only genuine SUBARU parts. After replacement, the new parts must be broken in as follows: ...
Sun visor extension plate
With the sun visor positioned over the side window, you can use the sun visor extension plate to prevent glare through the gap between the sun visor and center pillar. To use the extension plate ...
Road surface freeze warning indication
Road surface freeze warning indication 1) U.S.-spec. models 2) Except U.S.-spec. models When the outside temperature drops to 378F (38 C) or lower, the temperature indication flashes to ...