Gross Axle Weight (GAW) and Gross Axle Weight Rating (GAWR)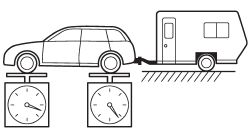 Gross Axle Weight
The total weight applied to each axle (GAW) must never exceed the Gross Axle Weight Rating (GAWR). The front and rear GAWs can be adjusted by relocating passengers and luggage inside the vehicle. The front and rear GAWR are also shown on the certification label.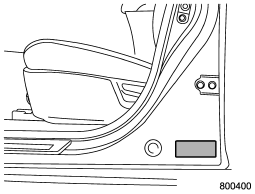 Certification label
To check both GVWR and GAWR and to confirm that the total weight and weight distribution are within safe driving limits, you should have your vehicle and trailer weighed at a commercial weighing station. Be sure that all cargo is firmly secured to prevent a change in weight distribution while driving.
See also:
Synthetic oil
You should use synthetic engine oil that meets the same requirements given for conventional engine oil. When using synthetic oil, you must use oil of the same classification, viscosity and grade shown ...
Headlight flasher
CAUTION Do not hold the lever in the flashing position for more than just a few seconds. To flash the headlights, pull the lever toward you and then release it. The high beam will stay on for as ...
Function settings
A SUBARU dealer can change the settings of the functions shown in the following table to meet your personal requirements. Contact the nearest SUBARU dealer for details. If your vehicle is equipped w ...