Gross Vehicle Weight (GVW) and Gross Vehicle Weight Rating (GVWR)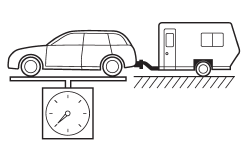 Gross Vehicle Weight
The Gross Vehicle Weight (GVW) must never exceed the Gross Vehicle Weight Rating (GVWR).
Gross Vehicle Weight (GVW) is the combined total of the weight of the vehicle, driver, passengers, luggage, trailer hitch, trailer tongue load and any other optional equipment installed on your vehicle. Therefore, the GVW changes depending on the situation. Determine the GVW each time before going on a trip by putting your vehicle and trailer on a vehicle scale. GVWR is shown on the certification label located on the driver's door of your vehicle.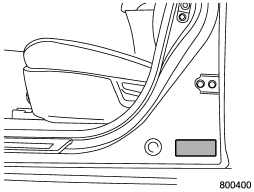 Certification label
See also:
Operating the passengers' windows
To open: Press the appropriate switch down and hold it until the window reaches the desired position. To close: Pull the switch up and hold it until the window reaches the desired position. ...
Emergency brake
CAUTION Use the emergency brake only in case of an emergency. If the emergency brake is excessively used, the brake parts will wear down faster or the brake may not work sufficiently due to rear ...
Preparing to drive
You should perform the following checks and adjustments every day before you start driving. 1. Check that all windows, mirrors, and lights are clean and unobstructed. 2. Check the appearance and c ...