Trailer hitch (Outback — if equipped)
WARNING
● Never exceed the maximum weight specified for the trailer hitch. Exceeding the maximum weight could cause an accident resulting in serious personal injuries. Permissible trailer weight changes depending on the situation. For possible recommendations and limitations, refer to "Trailer towing" F8-19.
● Trailer brakes are required when the towing load exceeds 1,000 lbs (453 kg). Be sure your trailer has safety chains and that each chain will hold the trailer's maximum gross weight. Towing trailers without safety chains could create a traffic safety hazard if the trailer separates from the hitch due to coupling damage or hitch ball damage.
● Be sure to check the hitch pin and safety pin for positive locking placement before towing a trailer. If the ball mount comes off the hitch receiver, the trailer could get loose and create a traffic safety hazard.
● Use only the ball mount supplied with this hitch. Use the hitch only as a weight carrying hitch. Do not use with any type of weight distributing hitch.
The trailer hitch is designed to tow a Class 1 rated load. The maximum gross trailer weight and maximum gross tongue weight are indicated in the following table.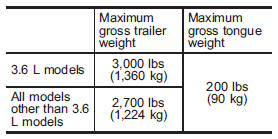 When you tow a trailer, refer to "Trailer towing" F8-19.
See also:
Ride, Handling & Braking
Employing a car-based four-wheel-independent suspension since its mid-1990s inception, the Outback displays admirable ride quality. It soaks up bumps with little driver disturbance but maintains g ...
Parking on a grade
Always block the wheels under both vehicle and trailer when parking. Apply the parking brake firmly. You should not park on a hill or slope. But if parking on a hill or slope cannot be avoided ...
Wheel alignment
*: The difference between right-hand camber and left-hand camber should be within 45' or less. ...