Trailer hitch (Outback — if equipped)
WARNING
● Never exceed the maximum weight specified for the trailer hitch. Exceeding the maximum weight could cause an accident resulting in serious personal injuries. Permissible trailer weight changes depending on the situation. For possible recommendations and limitations, refer to "Trailer towing" F8-19.
● Trailer brakes are required when the towing load exceeds 1,000 lbs (453 kg). Be sure your trailer has safety chains and that each chain will hold the trailer's maximum gross weight. Towing trailers without safety chains could create a traffic safety hazard if the trailer separates from the hitch due to coupling damage or hitch ball damage.
● Be sure to check the hitch pin and safety pin for positive locking placement before towing a trailer. If the ball mount comes off the hitch receiver, the trailer could get loose and create a traffic safety hazard.
● Use only the ball mount supplied with this hitch. Use the hitch only as a weight carrying hitch. Do not use with any type of weight distributing hitch.
The trailer hitch is designed to tow a Class 1 rated load. The maximum gross trailer weight and maximum gross tongue weight are indicated in the following table.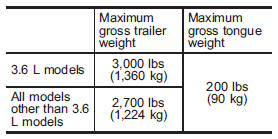 When you tow a trailer, refer to "Trailer towing" F8-19.
See also:
Headlight
CAUTION Halogen headlight bulbs become very hot while in use. If you touch the bulb surface with bare hands or greasy gloves, fingerprints or grease on the bulb surface will develop into hot spot ...
To use as semi-automatic climate control system
Each function can be individually set to AUTO mode independently of the others. Any function set to AUTO mode is controlled automatically. Any function not set to AUTO mode can be manually adju ...
Ignition switch light
For easy access to the ignition switch in the dark, the ignition switch light illuminates when driver's door is opened or when the driver's door is unlocked using the remote keyless entry transmit ...