How to use as crossbars
CAUTION
● Do not raise the bar higher than necessary. The base of the bar may be damaged.
● Be careful not to contact the bars while sliding them. Otherwise, the bars may be scratched or the latch portions may be damaged.
● Do not slide the bar more than necessary when sliding the bar. The base of the bar may be damaged.
● Do not allow the bar to fall on or contact the roof panel or the moonroof when sliding the bar. Otherwise the roof panel may be dented or the glass of the moonroof may be damaged.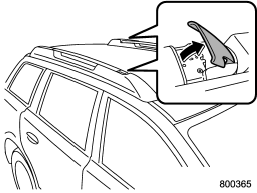 1. Pull out the integrated crossbars from the roof rail holders by pulling up the covers.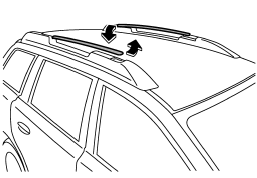 2. Slide the bars in the direction shown in the illustration.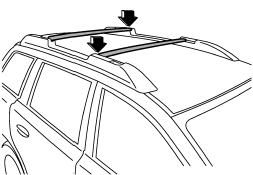 3. Install the bars into the holders.
4. Make sure that the latches are fitted securely.
See also:
Removal and installation of the crossbars
Each of the two roof moldings has two mounting points for crossbars. Each mounting point is fitted with a cover. Use a screwdriver to remove the covers. When installing the crossbars on the roof mol ...
Changing a flat tire
• Do not jack up the vehicle on an incline or a loose road surface. The jack can come out of the jacking point or sink into the ground and this can result in a severe accident. • Use only the ja ...
Tire pressures
Check and, if necessary, adjust the pressure of each tire (including the spare) at least once a month and before any long journey. Check the tire pressure when the tires are cold. Use a pressure gaug ...