GVWR and GAWR (Gross Vehicle Weight Rating and Gross Axle Weight Rating)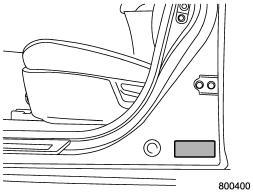 Certification label
The certification label attached to the driver's side door shows GVWR (Gross Vehicle Weight Rating) and GAWR (Gross Axle Weight Rating).
The GVW (Gross Vehicle Weight) must never exceed the GVWR. GVW is the combined total of weight of the vehicle, fuel, driver, all passengers, luggage, any optional equipment and trailer tongue load. Therefore, the GVW changes depending on the situation.
In addition, the total weight applied to each axle (GAW) must never exceed the GAWR. The front and rear GAWs can be adjusted by relocating luggage inside the vehicle.
Even if the total weight of your luggage is lower than the vehicle capacity weight, either front or rear GAW may exceed the GAWR, depending on the distribution of the luggage.
When possible, the load should be evenly distributed throughout the vehicle. If you carry heavy loads in the vehicle, you should confirm that GVW and front and rear GAWs are within the GVWR and GAWR by putting your vehicle on a vehicle scale, found at a commercial weighing station.
Do not use replacement tires with a lower load range than the originals because they may lower the GVWR and GAWR limitations. Replacement tires with a higher load range than the originals do not increase the GVWR and GAWR limitations.
See also:
Main fuse
Main fuse box The main fuses are designed to melt during an overload to prevent damage to the wiring harness and electrical equipment. Check the main fuses if any electrical component fails to ...
Active head restraint (if equipped)
Active head restraint (if equipped) The front seats of your vehicle are equipped with active head restraints. They automatically tilt forward slightly in the event the vehicle is struck from the rear ...
Checking the fluid level
The automatic transmission fluid expands largely as its temperature rises; the fluid level differs according to fluid temperature. Therefore, there are two different scales for checking the level of ...