Catalytic converter
WARNING
● Avoid fire hazards. Do not drive or park the vehicle anywhere near flammable materials (e.g. grass, paper, rags or leaves), because the catalytic converter operates at very high temperatures.
● Keep everyone and flammable materials away from the exhaust pipe while the engine is running. The exhaust gas is very hot.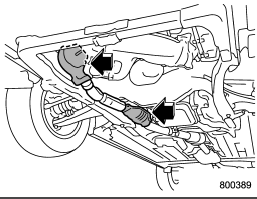 2.5 L non-turbo models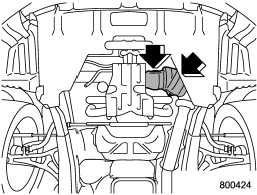 2.5 L turbo models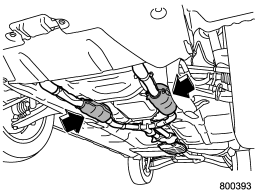 3.6 L models
The catalytic converter is installed in the exhaust system. It serves as catalyst to reduce HC, CO and NOx in exhaust gases, thus providing cleaner exhaust.
To avoid damage to the catalytic converter:
● Use only unleaded gasoline. Even a small amount of leaded gasoline will damage the catalytic converter.
● Never start the engine by pushing or pulling the vehicle.
● Avoid racing the engine.
● Never turn off the ignition switch while the vehicle is moving.
● Keep your engine tuned-up. If you feel the engine running rough (misfiring, backfiring or incomplete combustion), have your vehicle checked and repaired by an authorized SUBARU dealer.
● Do not apply undercoating or rust prevention treatment to the heat shield of catalytic converter and the exhaust system.
● Do not drive with an extremely low fuel level.
See also:
Adverse safety consequences of overloading on handling and stopping and on tires
Overloading could affect vehicle handling, stopping distance, and vehicle and tire performance in the following ways. This could lead to an accident and possibly result in severe personal in ...
Cargo tie-down hooks (5-door – if equipped)
The cargo area is equipped with four tiedown hooks so that cargo can be secured with a cargo net or ropes. When using the tie-down hooks, turn them down out of the storing recesses. When not in use ...
Tripped sensor identification
The security indicator light flashes when the alarm system has been triggered. Also, the number of flashes indicates the location of unauthorized intrusion or the severity of impact on the vehicle. ...