Cruise control indicator light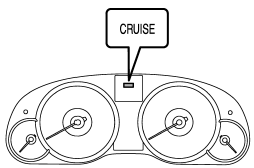 The cruise control indicator light illuminates when the ignition switch is turned to the "ON" position and turns off after approximately 3 seconds.
The light illuminates when the "CRUISE" main switch is pressed.
NOTE
● If you press the "CRUISE" main switch button while turning the ignition switch "ON", the cruise control function is deactivated and the cruise control indicator light flashes. To reactivate the cruise control function, turn the ignition switch back to the "Acc" or "LOCK" position, and then turn it again to the "ON" position.
● If this indicator light and the CHECK ENGINE warning light/malfunction indicator lamp flash simultaneously during driving, have the vehicle checked by your nearest SUBARU dealer.
See also:
Limited slip differential (LSD) (STI)
The LSD provides optimum distribution of power according to the difference in revolutions between the right and left wheels that may be caused by certain driving conditions, thereby improving driving ...
Drive belts
It is unnecessary to check the deflection of the drive belt periodically because your engine is equipped with an automatic belt tension adjuster. However, replacement of the belt should be done ac ...
SRS side airbag and SRS curtain airbag
The SRS side airbag is stored in the door side of each front seat seatback, which bears an "SRS AIRBAG" label. In a moderate to severe side impact collision, the SRS side airbag on the impacted s ...