Maximum allowable speeds
WARNING
When shifting down a gear, ensure that the vehicle is not travelling at a speed exceeding the Maximum Allowable Speed for the gear which is about to be selected. Failure to observe this precaution can lead to engine over-revving and this in turn can result in engine damage.
In addition, sudden application of engine brakes when the vehicle is travelling on a slippery surface can lead to wheel locking; as a consequence, control of the vehicle may be lost and the risk of an accident increased.
The following table shows the maximum speeds that are possible with each different gear. The tachometer's needle will enter the red area if these speeds are exceeded.
With the exception of cases where sudden acceleration is required, the vehicle should not be driven with the tachometer's needle inside the red area. Failure to observe this precaution can lead to excessive engine wear and poor fuel economy.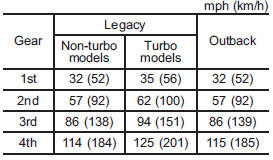 NOTE
Never exceed posted speed limits.
See also:
Wheels and tyres
The standard wheel and tyre combination on the Subaru Outback is a 17-inch alloy wheel with 225/60 R17 tyre. STRUCTURE AND SAFETY As well as 'new-look' styling, larger dimensions and new suspens ...
Turn signal lever
To activate the right turn signal, push the turn signal lever up. To activate the left turn signal, push the turn signal lever down. When the turn is finished, the lever will return automaticall ...
2010 Subaru Outback review
A few things have changed with the 2010 Subaru Outback. It's undergone a redesign that's full of positive changes, but there's one change I'm not crazy about - the exterior. It looks like it's bee ...