Maximum allowable speeds
WARNING
When shifting down a gear, ensure that the vehicle is not travelling at a speed exceeding the Maximum Allowable Speed for the gear which is about to be selected. Failure to observe this precaution can lead to engine over-revving and this in turn can result in engine damage.
In addition, sudden application of engine brakes when the vehicle is travelling on a slippery surface can lead to wheel locking; as a consequence, control of the vehicle may be lost and the risk of an accident increased.
The following table shows the maximum speeds that are possible with each different gear. The tachometer's needle will enter the red area if these speeds are exceeded.
With the exception of cases where sudden acceleration is required, the vehicle should not be driven with the tachometer's needle inside the red area. Failure to observe this precaution can lead to excessive engine wear and poor fuel economy.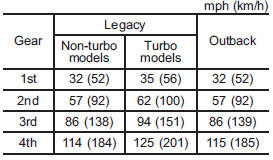 NOTE
Never exceed posted speed limits.
See also:
Deleting old transmitter codes
The control unit of the keyless entry system has four memory locations to store transmitter codes, giving it the ability to operate with up to four transmitters. When you lose a transmitter, t ...
Compass zone adjustment
Compass calibration zones 1. The zone setting is factory preset to Zone 8. Refer to the "Compass calibration zones" map shown above to verify that the compass zone setting is correct for your geograp ...
Manual tuning
Turn the "TUNE/TRACK/CH" dial clockwise to increase the tuning frequency and turn the "TUNE/TRACK/CH" dial counterclockwise to decrease it. Each time the dial is turned, the frequency interval ca ...