Help line
The help line (distance marker and vehicle width line) is a guide to help you realize the actual distance from the screen.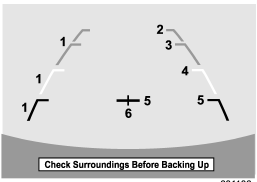 Help lines displayed on the navigation monitor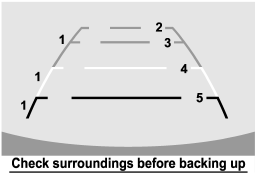 Help lines displayed on the inside mirror
1) Vehicle width line (oblique vertical line) 2) Approx. 10 feet (3 m) from the bumper (green horizontal line) 3) Approx. 6.5 feet (2 m) from the bumper (green horizontal line) 4) Approx. 3 feet (1 m) from the bumper (yellow horizontal line) 5) Approx. 1.5 feet (0.5 m) from the bumper (red horizontal line) 6) Vehicle centerline
When the shift lever or select lever is set to position "R", the monitor screen displays the help lines together with the rear view image.
CAUTION
● When moving backward, always check the back with your eyes without relying on the help lines.
● The actual position may be different from the indication of the help lines.
● Differences may occur due to number of passengers or loaded cargo.
● When the vehicle is on a slope or when the vehicle is inclined against the road, the indication is different from the actual position.
See also:
Certification for the Handsfree system
FCC WARNING Changes or modifications not expressly approved by the party responsible for compliance could void the user's authority to operate the equipment. NOTE This device complies with Part ...
Trailer towing
Your vehicle is designed and intended to be used primarily as a passenger-carrying vehicle. Towing a trailer puts additional loads on your vehicle's engine, drivetrain, brakes, tires and suspensio ...
FM reception
Although FM is normally static free, reception can be affected by the surrounding area, atmospheric conditions, station strength and transmitter distance. Buildings or other obstructions may c ...