Under-floor storage compartment
The subfloor storage compartment is located under the floor of the trunk or cargo area and can be used to store small items. To open the lid, pull the tab or handle up.
NOTE
When storing a flat tire, put the subfloor storage in the trunk or cargo area.
CAUTION
● Always keep the lid of the subfloor storage compartment closed while driving to reduce the risk of injury in the event of sudden stop or an accident.
● Do not store spray cans, containers with flammable or corrosive liquids or any other dangerous items in the subfloor storage compartment.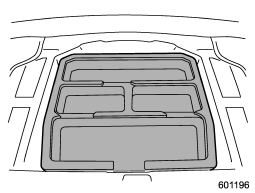 Legacy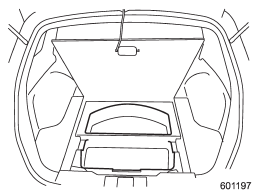 Outback
Hang the hook provided on the underside of the lid on the rear edge of the roof to keep the lid open.
See also:
When "CHECK DISC" is displayed
Press the eject button to unload the discs. Check that the disc is not damaged or scratched, and also check that the disc is inserted correctly. This message may appear when using some CD-RW discs ...
Operation during cold weather
Carry some emergency equipment, such as a window scraper, a bag of sand, flares, a small shovel and jumper cables. Check the battery and cables. Cold temperatures reduce battery capacity. The batter ...
When "CHECK DEVICE" is displayed
This message is displayed under the following conditions. - When there is a short in the USB bus - When a non-corresponding device (for example a USB mouse) is connected - When a non-correspo ...