Under-floor storage compartment
The subfloor storage compartment is located under the floor of the trunk or cargo area and can be used to store small items. To open the lid, pull the tab or handle up.
NOTE
When storing a flat tire, put the subfloor storage in the trunk or cargo area.
CAUTION
● Always keep the lid of the subfloor storage compartment closed while driving to reduce the risk of injury in the event of sudden stop or an accident.
● Do not store spray cans, containers with flammable or corrosive liquids or any other dangerous items in the subfloor storage compartment.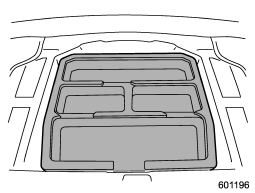 Legacy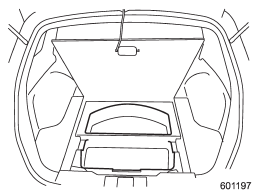 Outback
Hang the hook provided on the underside of the lid on the rear edge of the roof to keep the lid open.
See also:
Air conditioner button
Air conditioner button The button positions and their functions are as follows. ON: The air conditioner operates while the fan is running. Push the button to select this position. The indic ...
Drive belts
It is unnecessary to check the deflection of the drive belt periodically because your engine is equipped with an automatic belt tension adjuster. However, replacement of the belt should be done ac ...
XMTM satellite radio (for U.S.A. only)
XMTM is a continental U.S. based satellite radio service, including music, news, sports, talk and children's programming. XMTM provides digital quality audio and text information, including song t ...