Convenient tie-down hooks (if equipped)
CAUTION
The convenient tie-down hooks are designed only for securing light cargo. Never try to secure cargo that exceeds the capacity of the hooks. The maximum load capacity is 44 lbs (20 kg) per hook.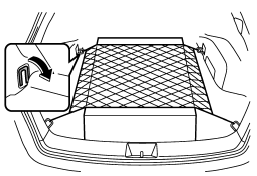 The cargo area is equipped with four tiedown hooks so that cargo can be secured with a luggage net or ropes.
When using the tie-down hooks, turn them down out of the storing recesses. When not in use, put the hooks up into the storing recesses.
See also:
Dimensions
...
Adverse safety consequences of under-inflation
Driving at high speeds with excessively low tire pressures can cause the tires to flex severely and to rapidly become hot. A sharp increase in temperature could cause tread separation, and failure ...
Tribeca in the Market
As the saying goes, you only have one chance to make a first impression. That applies in the car world, and Subaru now has an uphill battle to get consumers who may have been turned off by the B9 ...