Ashtray (if equipped)
CAUTION
● Do not use ashtrays as waste receptacles or leave a lighted cigarette in an ashtray. This could cause a fire.
● Always extinguish matches and cigarettes before putting them into the ashtray, and then close the ashtray securely. If you keep the ashtray open, the fire of the cigarette may spread to another cigarette butt and start a fire.
● Do not put flammable material in the ashtray.
● Do not leave a lot of cigarette butts in the ashtray.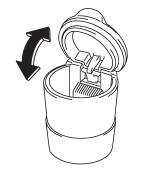 The portable ashtray can be installed in each cup holder. For the locations of the cup holders, refer to "Cup holder" F6-8. When using the ashtray, open the lid of the ashtray. When removing the ashtray from a cup holder, pull the ashtray upwards. Fully close the lid after using the ashtray to help reduce residual smoke.
NOTE
Particles of ash and tobacco will accumulate around the hinges of the ashtray's inner lid. Clean them off using a toothbrush or another narrow-ended implement.
See also:
To enter the passive mode
If you wish to program the passive arming mode, have it done by your SUBARU dealer. ...
Cruise control set indicator light
The cruise control set indicator light illuminates when the ignition switch is turned to the "ON" position and turns off after approximately 3 seconds. The light illuminates when vehicle speed ha ...
Legacy
SUBARU does not offer accessory trailer hitches. Consult with a professional hitch supplier to assist you in choosing an appropriate hitch for your vehicle. Be sure to follow all of the hitch manu ...