Bottle holders
CAUTION
● Do not pick up a bottle from the bottle holder or put a bottle in the holder while you are driving, as this may distract you and lead to an accident.
● When placing a beverage in a door pocket, make sure it is capped. Otherwise, the beverage could spill when opening/closing the door or while driving and, if the beverage is hot, it could scald you.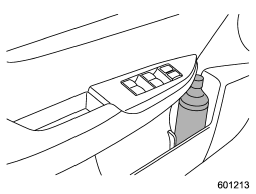 The door pocket equipped on each door trim can be used to hold beverage bottles and other items.
See also:
Two separate circuits
Your vehicle has two separate circuit brake systems. Each circuit works diagonally across the vehicle. If one circuit of the brake system should fail, the other half of the system still works. ...
Photosensors
The mirror has a photosensor attached on the front and back sides. During nighttime driving, these sensors detect distracting glare from vehicle headlights behind you and automatically dim the m ...
Drive belts
It is unnecessary to check the deflection of the drive belt periodically because your engine is equipped with an automatic belt tension adjuster. However, replacement of the belt should be done ac ...