Glove box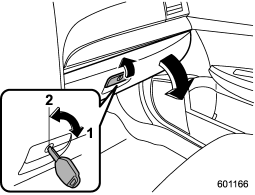 1) Lock
2) Unlock
To open the glove box, pull the handle. To close it, push the lid firmly upward.
To lock the glove box, insert the key and turn it clockwise. To unlock the glove box, insert the key and turn it counterclockwise.
See also:
Behavior with key lock-in prevention function operational
With the driver's door open, the doors are automatically kept unlocked even if the front side of the power door locking switch is pressed. ...
System operation
The alarm system will give the following alarms when triggered. - The vehicle's horn will sound for 30 seconds. - The turn signal lights will flash for 30 seconds. If any of the doors or the ...
Auto-dimming mirror with compass (if equipped)
1) LED 2) Switch 3) Sensor 4) Compass display The auto-dimming mirror has an anti-glare feature which automatically reduces glare coming from headlights of vehicles behind you. It also contain ...