Cargo area light (Outback)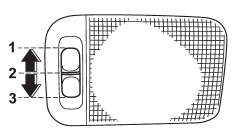 1) DOOR
2) OFF
3) ON
The cargo area light switch has three positions.
DOOR: The light illuminates only when the rear gate is opened.
OFF: The light remains off.
ON: The light remains on continuously.
The automatically illuminated cargo area light remains on for several seconds and then gradually turns off after the rear gate is closed. While the light is on, if any of the following operations are performed, the cargo area light turns off immediately.
● The ignition switch is turned from the "LOCK" position to the "Acc" or "ON" position.
● The rear gate is locked using the remote keyless entry transmitter.
The setting of the period for which the lights remain on (OFF delay timer) can be changed by a SUBARU dealer. Contact your SUBARU dealer for details.
See also:
Steps for Determining Correct Load Limit
1. Locate the statement "The combined weight of occupants and cargo should never exceed XXX pounds" on your vehicle's placard. 2. Determine the combined weight of the driver and passengers that will ...
Parking tips
When parking your vehicle, always perform the following procedure. - Apply the parking brake firmly. - For MT models, put the shift lever in the "1" (1st) position when on an upgrade or the "R ...
On the Road
Today's four-cylinder family cars are hardly the dogs they used to be (my point of reference being the mid-90s Accord I drove in high school — a car that won me few stoplight-revving contests and ...