Volume control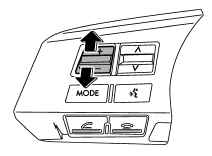 You can adjust the phone call volume, the voice volume and the voice guidance volume. Refer to "Volume control switch" F5-32.
Adjustable level of each volume

See also:
Driver's Control Center Differential (DCCD) (STI)
Always use the utmost care when driving. Being overconfident because you are driving a vehicle with a driver's control center differential could easily lead to a serious accident. All the ind ...
How to eject CDs from the player (type B)
NOTE ● Avoid driving the vehicle with a CD sticking out, because vibration might make it fall out. ● If you do not remove the ejected disc within approximately 15 seconds, a disc pro ...
Tire pressures and wear
Maintaining the correct tire pressures helps to maximize the tires' service lives and is essential for good running performance. Check and, if necessary, adjust the pressure of each tire (includin ...