Volume control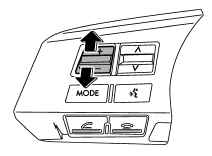 You can adjust the phone call volume, the voice volume and the voice guidance volume. Refer to "Volume control switch" F5-32.
Adjustable level of each volume

See also:
Display selection
Press the "TEXT" button while receiving the satellite radio to change the display as follows: ...
Passenger's frontal airbag ON and OFF indicators
The front passenger's frontal airbag ON and OFF indicators show you the status of the front passenger's SRS frontal airbag. The indicators are located next to the clock in the center portion o ...
PTY (Program type) group tuning only FM reception)
Press the indicated button to change to the PTY selection mode. At this time, the PTY group that you are currently listening to (type A, B and C audio)/that you selected the last time (type ...