How to eject a CD from the player (type A)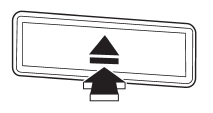 When a disc is being played back or when a disc is in the player, press the eject button "

". The disc will be ejected.
NOTE
● Avoid driving the vehicle with a CD sticking out, because vibration might make it fall out.
● If you do not remove the ejected disc within approximately 15 seconds, a disc protection function will operate, automatically reloading the disc. In this case, the disc is not played.
See also:
Tire pressures
Check and, if necessary, adjust the pressure of each tire (including the spare) at least once a month and before any long journey. Check the tire pressure when the tires are cold. Use a pressure gaug ...
Power switch and volume control
Type A and B audio Type C audio The dial is used for both power (ON/OFF) and volume control. The radio is turned ON and OFF by pushing the dial, and the volume is controlled by turning the dial. ...
Non-turbo models
Non-turbo models 1) Connector 2) Clip 3) Clamp 4) Air intake boot 5) Clip 1. Unplug the connector that is attached to the top of the air cleaner case. 2. Detach the connector cable from ...