Folder selection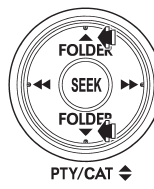 Press the "

" side of the "FOLDER"
button briefly to select the next folder.
Press the "

" side of the button briefly
to go back to the previous folder.
NOTE
● Selecting folders in this way is possible only within a single disc.
● Only MP3/WMA/AAC folders are recognized when an attempt to select the next or previous folder is made. If no appropriate folder exists on the disc, pressing the "

" or "
"
side of the "FOLDER" button starts playback beginning with the first track/file (track).
See also:
Headlight
CAUTION Halogen headlight bulbs become very hot while in use. If you touch the bulb surface with bare hands or greasy gloves, fingerprints or grease on the bulb surface will develop into hot spot ...
Side mirrors
After hitching a trailer to your vehicle, check that the standard side mirrors provide a good rearward field of view without significant blind spots. If significant blind spots occur with the ve ...
Fast-forwarding
Press the "" side of the "SEEK" button continuously to fast-forward the track/file. Release the button to stop fast-forwarding. NOTE If you fast-forward to the end of the last track/file (track) ...