Scan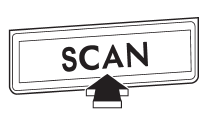 The scan mode lets you listen to the first 10 seconds of each track/file in succession. Press the "SCAN" button to start scanning upward beginning with the track/ file(s) following the currently selected one. After all track/file(s) in the disk/folder have been scanned, normal playback will be resumed. To cancel the scan mode, press the "SCAN" button again.
NOTE
The scan mode will be cancelled if you perform any of the following steps.
● Press the "RPT" button ● Press the "RDM" button ● Press the "RPT/RDM" button ● Turn the "TUNE/TRACK/CH" dial ● Press the "

" or "

"
side of the "FOLDER" button ● Press the "

" button
● Press the "

" or "

"
side of the "SEEK" button ● Press the disc select button ● Select the radio or AUX mode ● Press the "LOAD" button when there is free space in the CD magazine ● Turn off the power of the audio equipment
● Turn the ignition switch to the "LOCK" position
See also:
Ejecting a CD from the player
Disc select buttons 1. Use the disc select button to select the disc to be ejected. 2. Briefly press the "" button. The selected disc will be ejected. The disc number indicator will flash at t ...
AT and CVT models
CAUTION If you restart the engine while the vehicle is moving, shift the select lever into the "N" position. Do not attempt to place the select lever of a moving vehicle into the "P" position. 1 ...
Fuel economy hints
The following suggestions will help to save fuel. • Select the proper gear position for the speed and road conditions. • Avoid sudden acceleration or deceleration. Always accelerate gently until yo ...