Scan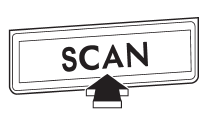 The scan mode lets you listen to the first 10 seconds of each track/file in succession. Press the "SCAN" button to start scanning upward beginning with the track/ file(s) following the currently selected one. After all track/file(s) in the disk/folder have been scanned, normal playback will be resumed. To cancel the scan mode, press the "SCAN" button again.
NOTE
The scan mode will be cancelled if you perform any of the following steps.
● Press the "RPT" button ● Press the "RDM" button ● Press the "RPT/RDM" button ● Turn the "TUNE/TRACK/CH" dial ● Press the "

" or "

"
side of the "FOLDER" button ● Press the "

" button
● Press the "

" or "

"
side of the "SEEK" button ● Press the disc select button ● Select the radio or AUX mode ● Press the "LOAD" button when there is free space in the CD magazine ● Turn off the power of the audio equipment
● Turn the ignition switch to the "LOCK" position
See also:
Illumination brightness control
The brightness of clock display, audio, air conditioner, information display and instrument panel illumination dims when the light switch is in the "" or "" positions. You can adjust brightness of t ...
Checking the fluid level
The power steering fluid expands greatly as its temperature rises; the fluid level differs according to fluid temperature. Therefore, the reservoir tank has two different checking ranges for hot an ...
Driving tips for AWD models
All-Wheel Drive distributes the engine power to all four wheels. AWD models provide better traction when driving on slippery, wet or snow-covered roads and when moving out of mud, dirt and ...