Scan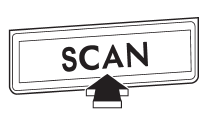 The scan mode lets you listen to the first 10 seconds of each track/file in succession. Press the "SCAN" button to start scanning upward beginning with the track/ file(s) following the currently selected one. After all track/file(s) in the disk/folder have been scanned, normal playback will be resumed. To cancel the scan mode, press the "SCAN" button again.
NOTE
The scan mode will be cancelled if you perform any of the following steps.
● Press the "RPT" button ● Press the "RDM" button ● Press the "RPT/RDM" button ● Turn the "TUNE/TRACK/CH" dial ● Press the "

" or "

"
side of the "FOLDER" button ● Press the "

" button
● Press the "

" or "

"
side of the "SEEK" button ● Press the disc select button ● Select the radio or AUX mode ● Press the "LOAD" button when there is free space in the CD magazine ● Turn off the power of the audio equipment
● Turn the ignition switch to the "LOCK" position
See also:
When the brakes get wet
When driving in rain or after washing the vehicle, the brakes may get wet. As a result, brake stopping distance will be longer. To dry the brakes, drive the vehicle at a safe speed while lightly depre ...
Jump starting
• Battery fluid is SULFURIC ACID. Do not let it come in contact with the eyes, skin, clothing or the vehicle. If battery fluid gets on you, thoroughly flush the exposed area with water immediate ...
Windows
WARNING To avoid serious personal injury caused by entrapment, always conform to the following instructions without exception. ● When operating the power windows, be extremely careful to pre ...