Inserting a disc in a desired position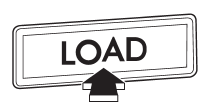 1. Briefly press the "LOAD" button. If the magazine in the player has an idle position where you can insert a disc, the disc number indicator associated with the idle position will blink.
The positions in the magazine the indicator of which steadily lights up are already loaded with discs.

Disc select buttons
2. Press the disc select button at the position where you want to insert a disc.
3. When the "LOAD" indicator illuminates, insert the disc. Once you have inserted the disc, the "LOAD" indicator will turn off. The disc will then be automatically drawn in, and the player will begin to play the first track on the disc.
● If you wish to insert another disc, repeat the procedure beginning with step 1.
● If you do not insert any disc in 15 seconds after you have pressed the "LOAD" button, the player will return to the original mode that was selected before the "LOAD" button was pressed.
● While the player is in the loading mode, if you press "FM", "AM" or "SAT" button, the player will enter standby mode. Press the "CD/AUX" button to start playback.
See also:
Warning and indicator lights
Several of the warning and indicator lights illuminate momentarily and then go out when the ignition switch is initially turned to the "ON" position. This permits checking the operation of the bul ...
Cooling and dehumidifying in high humidity and low temperature weather conditions
Under certain weather conditions (high relative humidity, low temperatures, etc.) a small amount of water vapor emission from the air outlets may be noticed. This condition is normal and does ...
Tire pressures
Check and, if necessary, adjust the pressure of each tire (including the spare) at least once a month and before any long journey. Check the tire pressure when the tires are cold. Use a pressure gaug ...