Scan tuning (SCAN)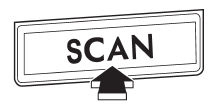 If you press the "SCAN" button, the radio will switch to the scan mode. In this mode, the radio scans through the radio band until a station is found. The radio will stop at the station for 5 seconds while displaying the frequency, after which scanning will continue until the entire band has been scanned.
Press the "SCAN" button again to cancel the SCAN mode. If you press the "SCAN" button while the radio is stopped at a station, the radio stays stopped at that station. If you press the button while the radio is scanning, the radio stops at the next receivable station.
Automatic tuning may not function properly if the station reception is weakened by distance from the station or proximity to tall buildings and hills.
See also:
Windshield wiper blade assembly
1. Raise the wiper arm off the windshield. 1) Open the cover 2) Pull down the wiper blade 2. Remove the wiper blade assembly by opening the cover and pulling it down in the direction shown in t ...
Temporary spare tire (if equipped)
When a spare tire is mounted or a wheel rim is replaced without the original pressure sensor/transmitter being transferred, the low tire pressure warning light will illuminate steadily a ...
Folder selection
Press the "" side of the "FOLDER" button briefly to select the next folder. Press the "" side of the button briefly to go back to the previous folder. NOTE ● Selecting folders in this w ...