Scan tuning (SCAN)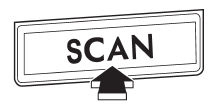 If you press the "SCAN" button, the radio will switch to the scan mode. In this mode, the radio scans through the radio band until a station is found. The radio will stop at the station for 5 seconds while displaying the frequency, after which scanning will continue until the entire band has been scanned.
Press the "SCAN" button again to cancel the SCAN mode. If you press the "SCAN" button while the radio is stopped at a station, the radio stays stopped at that station. If you press the button while the radio is scanning, the radio stops at the next receivable station.
Automatic tuning may not function properly if the station reception is weakened by distance from the station or proximity to tall buildings and hills.
See also:
START
The engine is started in this position. The starter cranks the engine to start it. When the key is released (after the engine has started), the key automatically returns to the "ON" position. ...
Lubrication oil circulation in the refrigerant circuit
Operate the air conditioner compressor at a low engine speed (at idle or low driving speeds) a few minutes each month during the off-season to circulate its oil. ...
All season tires
The factory-installed tires on your new vehicle except 2.5 L turbo models are all season tires. All season tires are designed to provide an adequate measure of traction, handling and braking perf ...