Scan tuning (SCAN)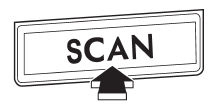 If you press the "SCAN" button, the radio will switch to the scan mode. In this mode, the radio scans through the radio band until a station is found. The radio will stop at the station for 5 seconds while displaying the frequency, after which scanning will continue until the entire band has been scanned.
Press the "SCAN" button again to cancel the SCAN mode. If you press the "SCAN" button while the radio is stopped at a station, the radio stays stopped at that station. If you press the button while the radio is scanning, the radio stops at the next receivable station.
Automatic tuning may not function properly if the station reception is weakened by distance from the station or proximity to tall buildings and hills.
See also:
Vehicle capacity weight
The load capacity of your vehicle is determined by weight, not by available cargo space. The maximum load you can carry in your vehicle is shown on the vehicle placard attached to the driver's sid ...
Overhead console
To open the console, push on the lid lightly and it will automatically open. CAUTION When your vehicle is parked in the sun or on a warm day, the inside of the overhead console heats up. Avoid s ...
To increase the speed (by the "RES/ SET" switch)
Press the "RES/SET" switch to the "RES" side and hold it until the vehicle reaches the desired speed. Then, release the switch. The vehicle speed at that moment will be memorized and treated as ...