Power switch and volume control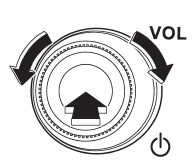 The dial is used for both power (ON/OFF) and volume control. The radio is turned ON and OFF by pressing the dial, and the volume is controlled by turning the dial.
See also:
Driving tips
- On a road surface where there is a risk of wheelspin (for example, a snow- or gravel-covered road), you can pull away from a standstill (safely and easily) by first selecting the 2nd gear of ...
Treadwear
The treadwear grade is a comparative rating based on the wear rate of the tire when tested under controlled conditions on a specified government test course. For example, a tire graded 150 ...
When the brakes get wet
When driving in rain or after washing the vehicle, the brakes may get wet. As a result, brake stopping distance will be longer. To dry the brakes, drive the vehicle at a safe speed while lightly depre ...